Consero's Virtual Forums facilitate uniquely meaningful conversation and connections among the world's most senior corporate leaders. Event participants engage in interactive panel sessions, breakout discussions on more targeted topics, and one-on-one business meetings. The end result is a highly efficient opportunity to share best practices, benchmark with other companies, and identify specific tools and strategies to materially improve corporate performance.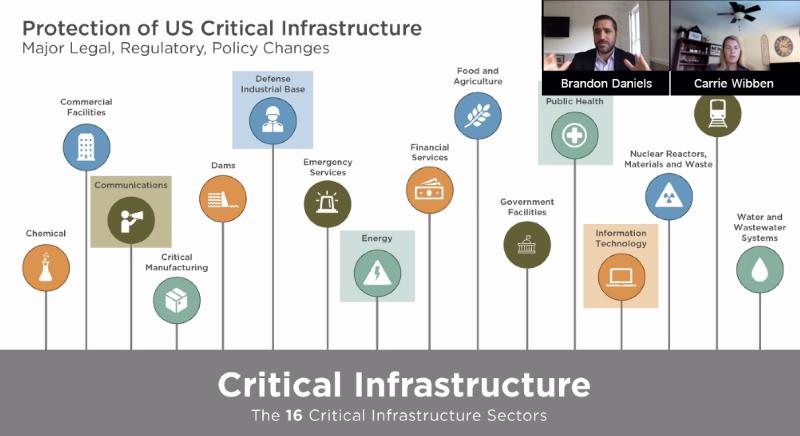 In the wake of geopolitical tensions, the United States has taken a series of Presidential, Legislative and Regulatory actions to ensure security of the United States' critical infrastructure. With this flurry of constant activity, what does today's CCO need to know in order to manage—and get ahead of— these emerging risk areas? Exiger's Carrie Wibben (former Defense and Intelligence Community Senior Executive) and Brandon Daniels (regulatory compliance expert, senior executive, and technologist with experience across Healthcare, Financial Services, Defense, and Energy) bring 40 years of experience to breakdown the impact this has to your industry, the potential solutions to mitigate these risks, and how to reduce the associated operational costs.
Exploring the critical infrastructure sectors that are subject to broad executive orders and Rule Making including Healthcare, Energy and Telecommunications Regulatory and compliance policy challenges for the companies connected to the Defense Industrial Base including Section 847, Section 889, Cybersecurity Maturity Model Certification (CMMC) Compliance, and the Committee on Foreign Investment in the US (CFIUS) Future trends in supply chain risk management policy.
The risk landscape is constantly changing. Hear about the latest with Exiger.