The Chinese government faces political and economic pressure to reopen its economy after two years of harsh restrictions in the pursuit of its "Zero-COVID" strategy. Its reluctance thus far can be explained by a fragile healthcare system that appears unprepared for restrictions to be lifted. The recent Omicron wave is bypassing containment efforts, and despite restrictions, cases are rising quickly, which has likely contributed to the outbreak of protests against zero-COVID in several coastal cities.
The Chinese government now faces a difficult choice: relax restrictions or impose even stricter controls to prevent a winter surge and suppress protests. Whichever choice is made will yield a considerable increase in near-term disruption to Chinese manufacturing and logistical capacity.
COVID Risks
The Chinese Communist Party's ("CCP") signaling of public concern about the spread of COVID-19 appears well placed: data shows that across multiple key metrics China—the most populated country on earth—is ill-prepared to deal with a COVID surge.
Unlike other countries, few Chinese people have acquired immunity through exposure and data reflects that vaccination rates for the elderly are very low.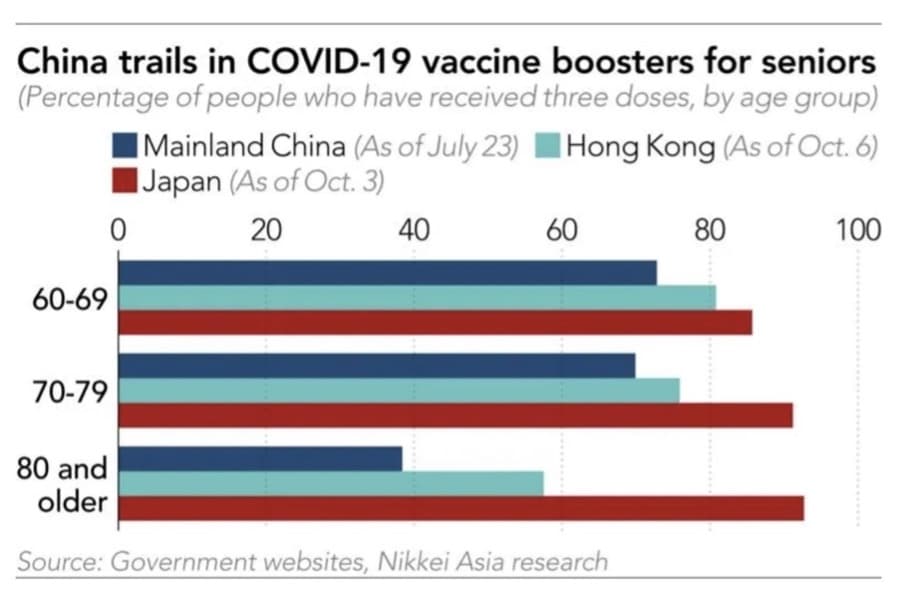 In addition to lower vaccination coverage, the Chinese-developed Sinovac vaccine is less effective than Western mRNA vaccines. Specifically:
Sinovac has been shown to be only 60 percent effective against severe disease versus Pfizer's 90 percent.
Pfizer is still effective after six months while Sinovac is "heavily diminished."
A University of Hong Kong study demonstrated that the fatality rate of people given Sinovac was nearly double the Pfizer vaccine.
Confronting its largest protests since 1989, China has signaled a willingness to relax its restrictions. Yet Hong Kong's experience with loosening pandemic controls is a cautionary tale. Seeking to prevent the decline of Hong Kong as an important financial center, China lifted mandatory quarantine requirements earlier this year:
When zero-COVID was lifted in Hong Kong, Omicron spread very rapidly through the population with an atypically high fatality rate.
Though Omicron has milder symptoms than earlier variants (Alpha and Delta), data shows that mortality is comparable for those with no immunization.
Due to its stringent zero-COVID strategy, the majority of the Chinese population has not contracted COVID, hindering the formation of "herd immunity."
The gravest risk factor of widespread COVID-19 infections is not directly related to the virus mortality rate. Rather, the combination of virality and incidence of severe disease threatens to overwhelm unprepared healthcare systems—if hospital beds are filled with COVID patients, they are not available for other lifesaving procedures, which increases the mortality rate across the entire healthcare system. Even easily treatable illnesses can become fatal if healthcare capacity is overwhelmed.
Available data indicates that the Chinese healthcare system is fragile, especially outside of major coastal cities.
Mainland China has just 3.6 intensive care beds per 100,000 residents, slightly under half that of Hong Kong: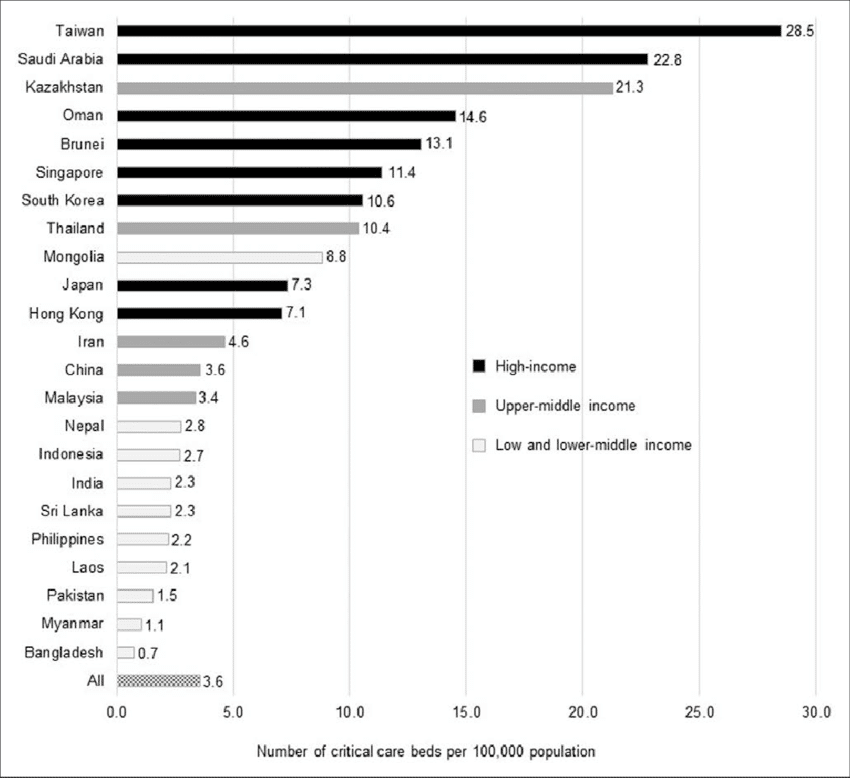 China lags other countries in multiple salient healthcare metrics: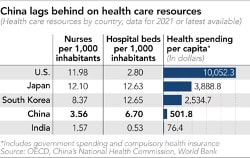 This fragile capacity is likely a large reason the CCP is publicly signaling the importance of preventing the winter virus surge.
Multiple high-level Chinese ministers and academics have outlined the risk of opening up unprepared. A 2022 study from the School of Public Health at Fudan University outright stated that China was unprepared to lift restrictions. Its model predicted:
1.5M
Deaths within six months
1.7 – 14x
Maximum capacity for intensive care demand for 19 to 48 days.
Restriction Risks
Two years of COVID controls have hampered usual growth of the Chinese economy by extending manufacturing bottlenecks in supply and freezing logistical capacity through lightning lockdowns on transport and shipping hubs. The current economic situation is likely the main consideration for the CCP when choosing when and how to ease restrictions.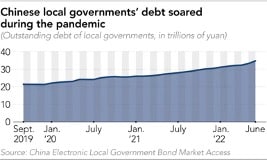 China's property bubble bursting and the de facto bankruptcy of Evergrande—China's second largest property developer by sales—hurt local government finances and was extremely negative for the wider economy.
Record youth unemployment of 20 percent reported in July 2022.
Third quarter GDP growth was 3.9 percent, up from 0.4 percent in Q2 but far short of the 5.5 percent predicted.
Zero-COVID has led local governments to accrue significant debt to finance testing for their 1.4 billion citizens.

A single round of mass testing for a city of 8 million reportedly costs the local government 100 million yuan ($14 million).
Since Jan. 2020, local government debt has increased 57 percent.
A government official from Jiangsu Province warned in August of the "extremely serious" fiscal situation due to government land sales—the largest portion of local government revenue—reaching only 30 percent of the previous year. This aligned with Western financial estimates that national property sales in China would likely drop 30 percent in 2022, which would be worse than during the 2008 financial crisis.

Protests
Stringent censorship means it is difficult to acquire reliable information about the political situation in China, but very significant protests do appear to have transpired in several major cities, including Beijing, Shanghai, and Wuhan.
Protests are reported to have been sparked by a fire that killed 10 people who were under lockdown measures.
Chinese media had reported similar stories in recent months, quickly catalyzing public resistance to the lockdowns.

In one notable recent event, hundreds of people that had returned 15 consecutive days of negative tests were ordered to be transported ~186 miles to a large regional quarantine center. One of the buses crashed en route, killing 27 and injuring another 20.
The current protests are noteworthy due to some protestors openly calling for Xi Jinping and the CCP to step down. This is the most brazen citizen rhetoric since the 1989 protests that led to the Tiananmen Square Massacre.
Supply Chain Risks
The long-term outlook for Chinese industry was already uncertain entering this latest instability. The Biden administration has doubled down on its predecessor's policy goal of diminishing global Chinese influence. The recent introduction of more powerful U.S. export controls targeting China's access to advanced semiconductor manufacturing equipment, software, and expertise will likely cripple China's domestic capability in this critical sector. Major companies, including Apple, have begun to shift manufacturing outside the country, responding to the deterioration of Western relations with China as well as the chronic industrial slowdowns and unpredictability sowed by zero-COVID.
The protest situation is highly uncertain and may be overstated by the media, but an uncertain political situation combined with the potential for a winter COVID surge now means organizations with supply chain exposure to Chinese manufacturing face increased short-term risk:
Substantial relaxations of pandemic restrictions could overwhelm the Chinese healthcare system, which has the potential to severely impact industrial capacity and ripple across global supply chains.
An increase in restrictions to prevent the incoming winter virus surge would further hamper Chinese manufacturing and logistic capabilities.
An escalation in the severity and incidence of protests and/or a strong reaction from the CCP both pose risks to the ability of Chinese industry to continue expanding and to resolve current supply and logistical issues.
Disruptions from the Russia-Ukraine conflict could drive further global inflation, increasing the risk and severity of recession for countries dependent on Chinese imports. This could shrink demand for Chinese goods, weaken China's economy, and engender greater political instability.
How Exiger Can Help
Exiger's technology platform and solutions like Supply Chain Explorer and DDIQ can help identify partners, customers, and other entities in your third-party ecosystem with the greatest exposure to China, whether through corporate ownership, supplier relationships, or other opaque—yet potentially risky—connections.
Contact us today to discuss how Exiger can support your organization.
This client alert was compiled by Adam Wren of Exiger.