Supply Chain

Risk Management
Supply Chain Risk Management is a multi-faceted and dynamic landscape of risk vectors and opportunities that must be consistently assessed and constantly updated to reflect the many macro supply chain risk drivers, from geopolitical risk, trade wars and industrial espionage to modern slavery and climate change. Social media and the 24/7 news cycle amplify reputational risk exposure.
To address these diverse risks and develop a future-proof SCRM solution, organizations must integrate the right technology, ensure tailored compliance processes and governance, and leverage modern SCRM expertise.
Exiger's

Supply Chain Risk Management Products
Designed to help legal, risk & compliance professionals tackle their biggest challenger, our technology helps accelerate and action business decisions with confidence.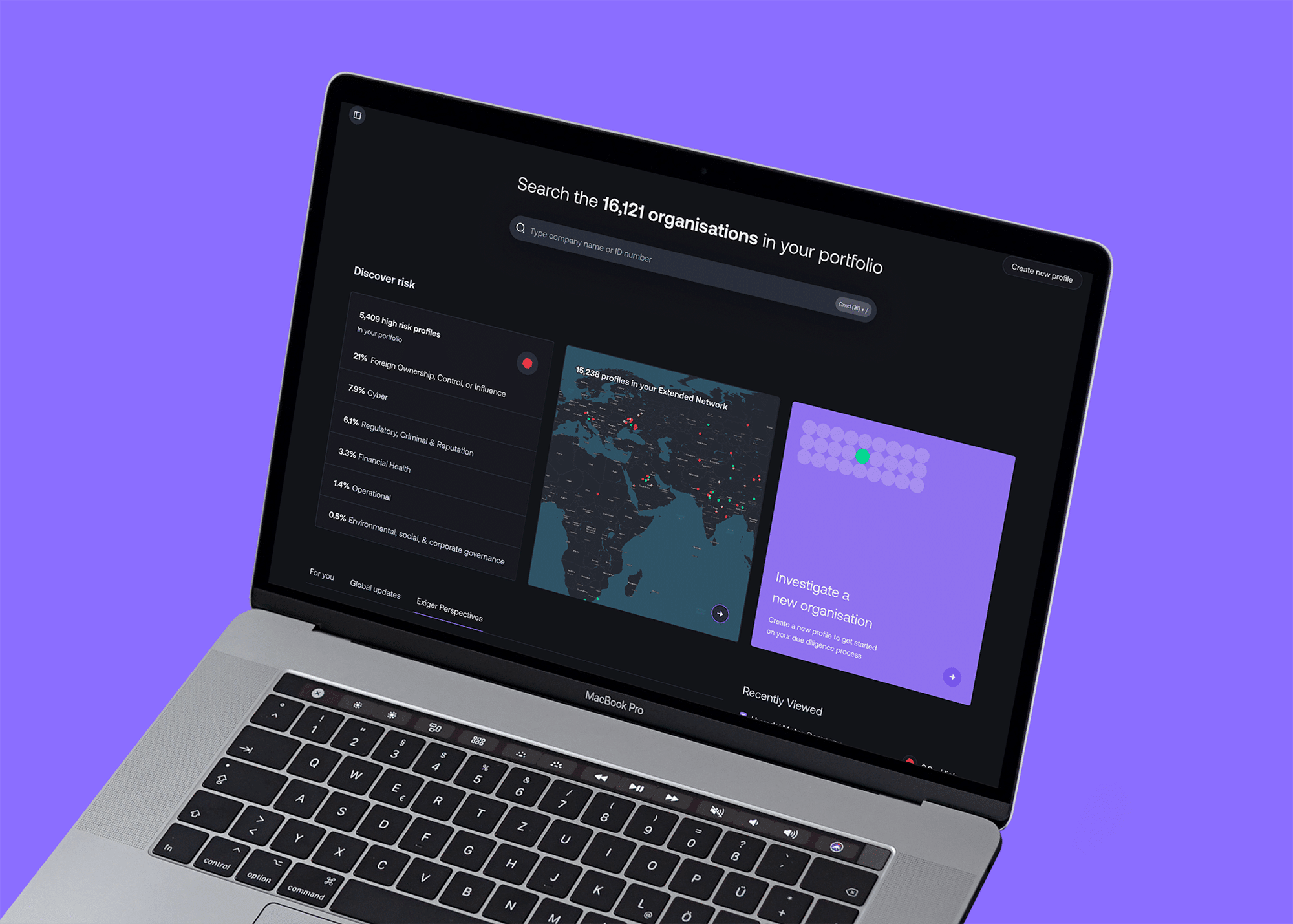 What Is Supply Chain Risk Management?
The past few decades have seen supply chains grow increasingly large, complex and globalized. In turn, supply chain disruptions are increasing in frequency and severity.
A recent Gartner survey revealed that over the past five years, 89% of companies experienced a supplier risk event. As a result, a McKinsey study revealed that over 90% admit they're actively attempting to make their supply chains more secure, resilient and agile in the face of overwhelming risk.
Supply chain risk management (SCRM) refers to the tools, processes and strategies public and private entities use to identify, mitigate and combat supply chain threats. SCRM takes many forms and often requires deep interdepartmental cooperation. To truly protect your supply chain, you need to prepare for known and unknown risks across every layer—including your third-party suppliers and customers.
Why Is Supply Chain Risk
Management Important?
Supply chain risk management isn't disruptive; it's the table stakes. At least one in 20 companies has experienced a supply chain disruption costing over $100 million in the past few years. The frequency of these disruptions is increasing at a rapid pace.
The benefits associated with SCRM optimization are extensive. Imagine: higher optimization, fewer disruptions, higher resilience and significantly increased profitability across virtually all business segments.
But very few companies have robust supply chain risk management. According to McKinsey's recent survey of supply chain leaders:
55% have no visibility into their upstream supply chain
Only 14% have visibility into third-tier suppliers
83% experienced raw materials shortages over the past year
A mere 37% perform scenario planning
67% have implemented digital dashboards for visibility (of note: these companies were 2x less likely to experience disruptions than those without dashboards)
The value of SCRM optimization isn't lost on supply chain management leaders. 97% have been actively investing in supply chain risk management tools and technologies. But putting together the pieces isn't always easy.
Beyond the tangible value, supply chain risk management is becoming an increasingly important part of compliance. Since 2018, the United States government has introduced multiple regulatory frameworks and agencies aimed at improving resilience across industries. These include:
In addition, multiple independent risk management strategies have popped up, each aimed at solving supply chain frictions.
Our SCRM solutions were "game-changing to the DoD in support of the Covid-19 response."
Threats Posed by the Top Supply Chain Risk Categories
New supply chain risks are identified yearly. During the pandemic, companies recognized once-invisible supply chain threats such as pandemics, lockdowns and global geopolitical tensions that had rarely impacted them before. This trend of new threats being spawned from globalized events will continue to grow. Supply chain risk management isn't solely focused on mitigating known risks; it should focus on end-to-end visibility — giving you the agility and resilience to tackle new forces.
To identify and remediate these risks at scale, companies need to build robust supply chain risk management programs.
Supply chain attacks come in many shapes and sizes, and they expand daily. Most of these risks can be organized under societal, ethical, economic, and political buckets. These include things like:
Climate events
Cybersecurity threat actors
Global warming
Multipolar economic systems
Trade frictions
Terrorist threats
Pandemics
Acute disasters
Nation-state attacks
According to the experts we work with daily, some of the more impactful threats include:
Building Blocks of an Effective
Supply Chain Risk Management Program
An effective supply chain risk management program requires three basic building blocks:
Supply chain complexity should be an advantage — not a weakness. Most supply chains are large, multi-tiered and global. With the right tools and technology, this sprawling interconnectedness becomes advantageous. You build extra resiliency and relationships that can help you navigate crises.
However, without the right tech stack, these global supply chains become opaque. You need to be able to spot weak points and vulnerabilities across every supplier. For larger companies, suppliers are in the tens of thousands, each with its own unique threat landscape.
Risk management tools uncover supply chain weaknesses and threats. Ideally, the tools you choose will be customized to your organization. They help you identify threat impacts, supplier vulnerabilities and preparedness across every node in the chain.
Most surveyed supply chain leaders are heavily investing in these tools and technology, and 67% have already fully incorporated technology to help them improve visibility across their supply chain.
Given the deep impact of supply chain risk management, cross-functional governance is a must. Stakeholders (often in IT, logistics, public relations and supply chain management) should regularly meet to discuss risks, improvements and initiatives. Ownership is key. Supply chain risks shouldn't be owned by one department. Instead, spread ownership across several key layers of your business.
We highly recommend building a so-called "risk management board" comprised of key business sectors. Data should be openly shared with C-level, and supply chain risk management should be a core component of growth — from top to bottom.
Risk management isn't about avoiding every risk immediately. You need to incorporate risk governance and ownership into your SCRM process. Not only does this lead to investments and ongoing problem-solving, but it ensures that risk management is baked into your yearly budgets and company vision.
Risk management is complex. It involves many skills, tools and processes. As an example, an organization uses technology to identify a supplier with questionable ethics. To protect its ESG reputation, this organization decides to cut ties with this supplier and identify additional suppliers. Public relations also needs to be pulled in due to risk exposure and brand degradation. This straightforward process has already impacted multiple teams — including IT, supply chain management, finance and public relations.
To successfully capture the needs of SCRM, you need combined experience. Supply chain risk stakeholders should have easy access to a wide range of roles and expertise. In addition, we highly recommend communicating with regulators and supply chain leaders. While regulations are still evolving, building around compliance and understanding needs across regulatory bodies is a powerful way to combine experience and create meaningful public-private partnerships.
Transform Your Supplier
Data into Actionable Insights
Building your own SCRM plan isn't necessarily easy. But practically approaching the problem reduces many of those upfront headaches.
Start by identifying known risks, documenting them and creating a framework to tackle them.
Next, incorporate the right tools and technology. You want to leverage your existing supplier data to get end-to-end visibility into supply chain risks. These tools should help you identify known risks and scout unforeseen risks. Constant monitoring is the key to successful SCRM practices.
Finally, implement governance and processes to regularly review risks, formulate plans and bridge gaps between knowledge and identified threats. Eventually, you can bake risk awareness into your company culture, especially as you start to fully understand risk verticals through regular monitoring and threat mitigation.
However, all of these internal changes deeply rely on the right technology. You need crystal-clear visibility into every layer of your chain — even at the nth level.
Next Level Identification for

Nth Level Clarity
At Exiger, we specialize in identifying risks for nth-level suppliers. Most organizations have little-to-no visibility beyond first-level suppliers. Yet, 87% of companies deal with disruptive incidents from third-party suppliers. You need to understand every node in the chain. We can help.
Supply Chain Explorer identifies all of your nth-tier suppliers, applies risk scores to them, and traces their data sources. We let you know exactly where your risks lie on a day-to-day basis. This allows you to plan processes and governance around the identified risks.
Power and Prioritize with Dynamic Dashboards
You need to understand where your risks come from, and how to mitigate them with haste. Exiger's dynamic and powerful dashboards visualize tangible threats and present meaningful recommendations for change.

Organizations using these dashboards see 2x fewer disruptions. Those who rally governance and combined expertise around these dashboards see even fewer. Risk decision-making has never been easier.
Configurable Visual Risk Assessments
Seeing is believing. Exiger doesn't just leverage best-in-class data to deeply analyze your suppliers across tier levels, we give you configurable and hyper-visual risk assessments. These assessments empower change. Supply chain leaders, IT, procurement and all parties involved in your supply chain risk ecosystem can quickly and easily digest threats. Once you can surface the risks, you know where to strike with clarity.
Accelerate
Transparency

in
Your Supply Chain
Exiger's purpose-built technology surfaces the risks that may be hiding deep within your supply chain.
False Positive and Noise Reduction
Access to Information from 300M+ Companies & 6B People
20 Years of Government Performance & Partnerships with
Tangible and Proven Results







"Exiger uses technology to make the world more transparent. We illuminate the dark corners and alleys so there are fewer places for criminals, terrorists, and foreign intelligence agents to hide."
Technology Alliances Manager
SVP, Exiger Federal Solutions
See Our SCRM Solutions in Action

Navigating FOCI Risks: Why Organizations Should Care

Executive Action on Supply Chain Resilience Should Use Data to Reduce Risk and Strengthen Economy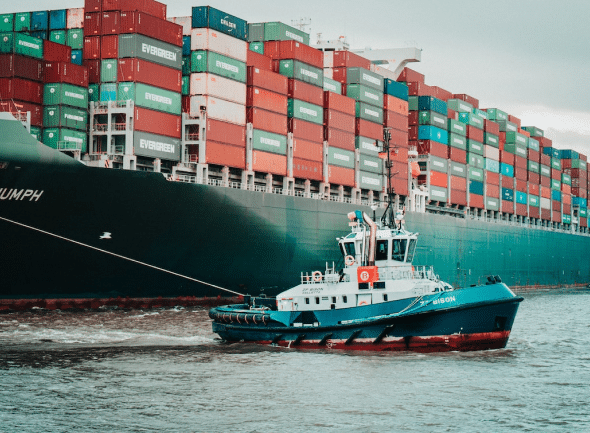 Understanding Carbon Emissions Risks Across the Supply Chain