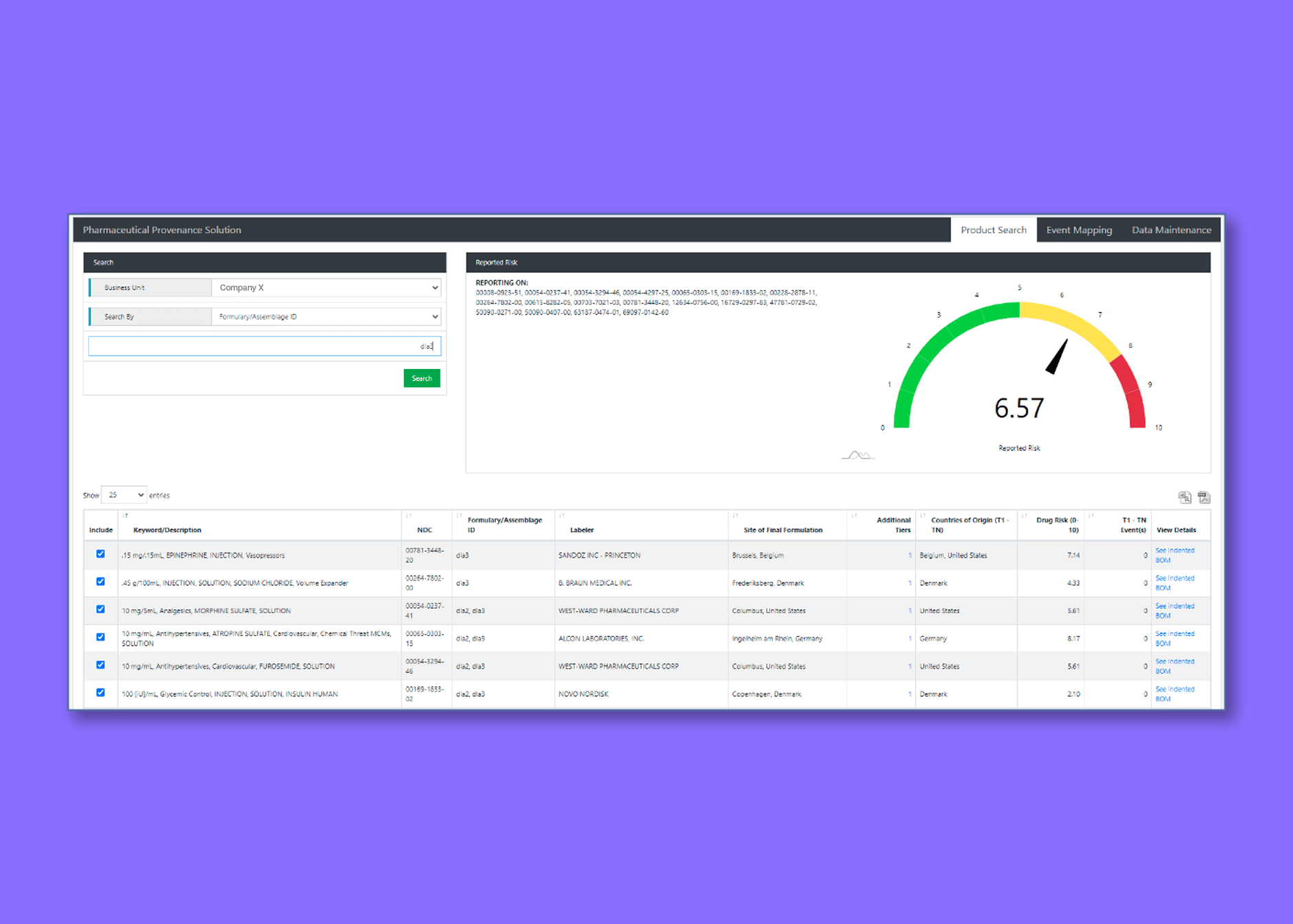 ExploreRx is a secure, web-based platform for automatically mapping all known suppliers of drug ingredients and, in many cases, chemical precursors. It provides persistent situational awareness, a common operating picture and early warning of risks and potential supply disruptions. The platform accomplishes this at-scale with no manual intervention.
Gain visibility into:
Three kinds of risk: supplier risk, product risk, formulary risk
Active and inactive pharmaceutical ingredients
Known n-tier suppliers
Countries of origin
Attributes for each drug including strength, dosage form, pharmacologic category, packaging information and more
Trade Agreement Act (TAA) compliance
Pharma Supply Chain Transparency Is Critical for Public Health and Safety
Pharmaceutical supply chain visibility is not only a national health issue, it's a national security issue. Everyday citizens and our armed forces rely on the safe manufacture and supply of thousands of essential medications and their ingredients.
A single drug can have a large sub-tier supply ecosystem with active and inactive ingredients tied to a wide range of companies including wholesalers, distributors, lablers, and re-packagers.
ExploreRx provides visibility to known sources of supply for drugs and ingredients and actively monitors the impact of a plethora of potential disruptors, including man-made and natural disasters.
Accurate, sustainable, scalable and mission-ready:
Knits together best-in-class commercial technology and a wide range of private and public data sources
Keeps data fresh and accurate over time
Made in America
NIST 800-171 compliant and deployed via AWS GovCloud
Supply Chain Visibility Made for Pharma
Purpose-built to meet the needs of pharmaceutical supply chain risk management, ExploreRx uses thousands of real-time, curated data sources to research, rank and risk-score individual ingredient suppliers or entire pharma supply chains.
As much or as little integration with your ERP, MRP, or legacy IT systems as you're comfortable with.
Facilitate collaboration across business units, alliance partners and external stakeholders. ExploreRx is the system of truth that drives optimal performance.
Secure, Role-Based Access
NIST-800-171 compliant and deployed via AWS GovCloud. Role-based user access based on identity, nationality and job function.
Flexible Reporting Framework
The ExploreRx robust data framework provides powerful ad-hoc reporting capabilities and iron-clad security.
A comprehensive set of part, process, material, supplier and product reference libraries include built-in referential integrity checks.
The rich user interface and executive dashboard in ExploreRx provide prescriptive vs. descriptive insights. Machine learning and artificial intelligence are built in.
Are you ready to see how
ExploreRx

can work for you?