BLUF: Exiger assesses the June 9 explosion at the Hoshine Silicon facility in Xinjiang, China as a LOW risk event for the U.S. supply chain in the short term. Top U.S. Hoshine importers have robust supply chains with capacity to replace lost Hoshine supply capacity.
Shipping Overview
Hoshine is listed as the shipper for 525 international shipments in the last 5 years, and a combined value of at least $17 million. About a third of these shipments (180, or 34%) came to the U.S. Another fifth (104, or 20%) came to South America, primarily Mexico. This is a common port of call for shipments from China that will move the last leg into the U.S. to avoid the appearance of a direct shipment. International shipments from Hoshine have trended down for the last few quarters, after surging in 2018.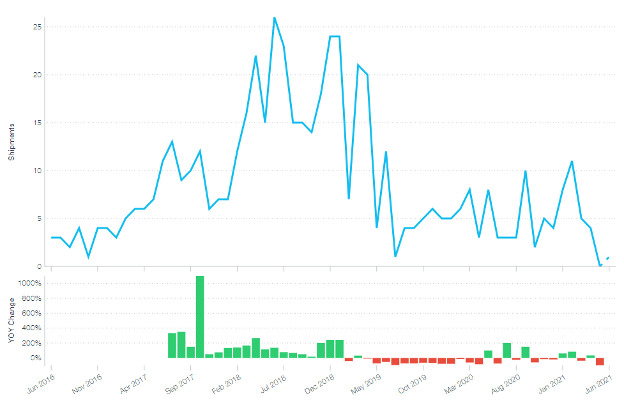 Limited Direct U.S. Exposure to the Hoshine Explosion
The leading U.S. recipients of Hoshine's shipments include Unilever, AB Specialty Silicones, Georgia Marine Warehouse Co., and Certainteed Gypsum. No U.S. prime contracts, subcontracts, or key relationships with major U.S. Government prime contractors were discovered related to these companies, nor to any of the lower-tier U.S. recipients of Hoshine shipments. Unilever, the British soap manufacturer, is also the top international recipient of Hoshine products. It is also the top U.S. recipient.
Unilever has received 166 shipments from Hoshine in the last five years. This includes 80 to the U.S. and 86 to Mexico or Brazil. However, Unilever has received nearly 18,000 shipments of similar goods internationally over the last 5 years. Even if it were to permanently lose Hoshine as a supplier, Exiger assesses this loss would have only a limited impact on Unilever's overall supply chain.
AB Specialty Silicones, an Illinois silicon distributor, is the second-leading recipient of Hoshine products in the United States. AB Specialty, a major U.S. silicone supplier which trades with brand name Andisil, had a similar explosion in December 2019. Again, Hoshine represents only a fraction of AB Specialty's overall supply chain. Since 2016, AB Specialty has received 730 international shipments of silicon-related products. Hoshine only sourced 30 of these shipments.
Georgia Marine has only received 17 shipments of silicone products matching Hoshine's goods. It's not much more than its 11 shipments from Hoshine, suggesting increased vulnerability to supply disruption. Georgia Marine is officially registered as Atlantic Marine Warehouse Co., and operates as part of Peeples Industries, a logistics service provider in Georgia. None of these companies and aliases have prime USG contracts (although they all received COVID-related loans in 2020). Similarly, none of the companies are mentioned in any press releases indicating involvement with any DoD systems, either. Thus, although Georgia Marine appears to be vulnerable to supply disruption due to the Hoshine explosion, there is no direct pass-through relevance to the U.S. Governments supply chain.
Indirect Exposure Carries Limited Market Implications
Similar to the muted short-term implications, this explosion carries only limited implications for the distressed global microelectronics supply chain. The explosion on Wednesday was reported to occur at Hoshine's "997 Siloxane" packaging facility, which handles an organic silicone produced by Hoshine. Organic silicone can be finished as a sealant or gel application, often used for encapsulating solar cells, although polysilicon generally is also widely consumed in the semiconductors business.
Exiger's review of domestic Chinese finishing fab facilities with significant implications for the U.S. market, such as Micron, TSMC, Intel, and Apple, revealed no direct ties between any of those facilities and the Hoshine silicon supply chain. The latest annual reports from all four companies (Apple, Intel, TSMC, and Micron) do not mention Hoshine or its associated companies as significant suppliers. In fact, all four annual reports indicate those companies have made investments into not only diversifying their silicon supply chains, but also internalizing those supply lines and constructing robust vertical integration.
Background on Hoshine Silicon
On June 9th, 2021, at about noon local time, local Chinese government officials reported a fire and subsequent explosion occurred at a silicone packaging workshop in China's Xinjiang Uygur autonomous region. The facility was part of a Hoshine Silicon manufacturing plant in the Shihezi Economic and Technological Development Zone. Hoshine's local address is No. 11 Weiyi Rd, North Industrial Park, Shihezi City, Xinjiang Uygur Autonomous region, China (latitude-longitude: 32.529718, 106.802874).
Hoshine Silicon Industry Co Ltd. is a producer of many different lines of metal, powder, and organic silicone and polysilicon products. It has been a part of significant market consolidation among polysilicon manufacturers in China. The publicly-traded company was founded in 2005 and has 8,893 employees.
About Exiger
Exiger is revolutionizing the way banks, corporations, and governments manage risk through its combination of practical expertise, award-winning technology, and process excellence. In recognition of the growing volume and complexity of data and regulation, Exiger is committed to creating a more sustainable compliance environment through its holistic and innovative approach to problem solving. Powered by DDIQ and Insight 3PM, Exiger takes an analytics-led, technology-enabled approach to everything we do.
The risk landscape is constantly changing. Hear about the latest with Exiger.