BLUF: U.S. domestic ground transportation is operating above capacity and cannot absorb the increased throughput from ports. The lack of excess truck capacity and inability to recruit truck drivers makes the supply inelastic and subject to steep price increases. Trucking prices increased 29% in October year over year and are postured for further increases through 2022. Exiger assesses a HIGH risk for late delivery of products and cost overruns in 2022.
Overview
Last month, Exiger reported about a high demand for goods causing shipping bottlenecks at ports as U.S. consumers spend on products rather than services due to COVID-19 fears. But supply chain issues don't end at the ports. U.S. ground transportation capacity is underprepared for the surge in freight. Specifically, U.S. domestic trucking is at maximum capacity, which is accelerating shipping costs, while not increasing delivery throughput.
Direct U.S. Impact from Supply Chain Crisis on Trucking Industry
The $791.7 billion trucking industry hauls 72.5% of all freight transported within the U.S. The industry also employs about 6% of all U.S. full-time workers. Despite the criticality of the industry, a freight crisis has been decades in the making due to a lack of investment for infrastructure, Just-In-Time shipping, and driver recruiting issues. Technology enabled Just-in-Time shipping which reduced costs in the form of warehousing, idle resources, and over production. Yet it also reduces slack capacity for inventory and shipping.
Integrated supply chain software and modeling allows companies to forecast shipping needs and reposition freight transportation capacity by region, thereby, reducing idle times and saving costs. However, repositioning freight transportation is a shell game with risk. When the global freight demand surges, capacity cannot meet freight transport demand. This results in exponentially increasing prices, as reflected in the trucking prices increasing by 29% year over year in October, 2020 to 2021.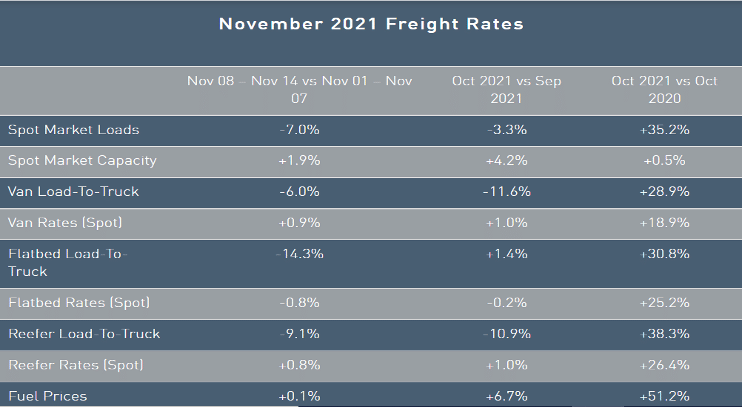 The American Trucking Association reports the U.S. has 80,000 vacant truck driver positions in 2021. Additionally, loading and unloading infrastructure is insufficient for increased throughput. Fueling, parking, and maintenance facilities would need to expand to support increases in freight transport. Initiatives are currently in motion by the government and companies to reduce driver upload and offload time. These account for 20 – 30 percent of a driver workdays. Efficiencies in loading procedures offer the primary opportunity for increased capacity in the near-term but are likely insufficient to significantly increase throughput and reduce cost.
About Exiger
Exiger is revolutionizing the way banks, corporations, and governments manage risk through its combination of practical expertise, award-winning technology, and process excellence. In recognition of the growing volume and complexity of data and regulation, Exiger is committed to creating a more sustainable compliance environment through its holistic and innovative approach to problem solving. Powered by DDIQ and Insight 3PM, Exiger takes an analytics-led, technology-enabled approach to everything we do.
The risk landscape is constantly changing. Hear about the latest with Exiger.