International Women's Day (IWD) on March 8th "celebrates the social, economic, cultural, and political achievements of women". This day also marks "a call to action for accelerating gender parity". Every year has a theme set from IWD's organization and 2021's is #ChooseToChallenge (read more).
IWD sees a number of MISSIONS to help forge a gender equal world. Celebrating women's achievements and increasing visibility, while calling out inequality, is key. Here are a few ways Exiger, led by our initiative WINs, is choosing to challenge gender inequality:
Keynote with NY Times Bestselling Author Eve Rodsky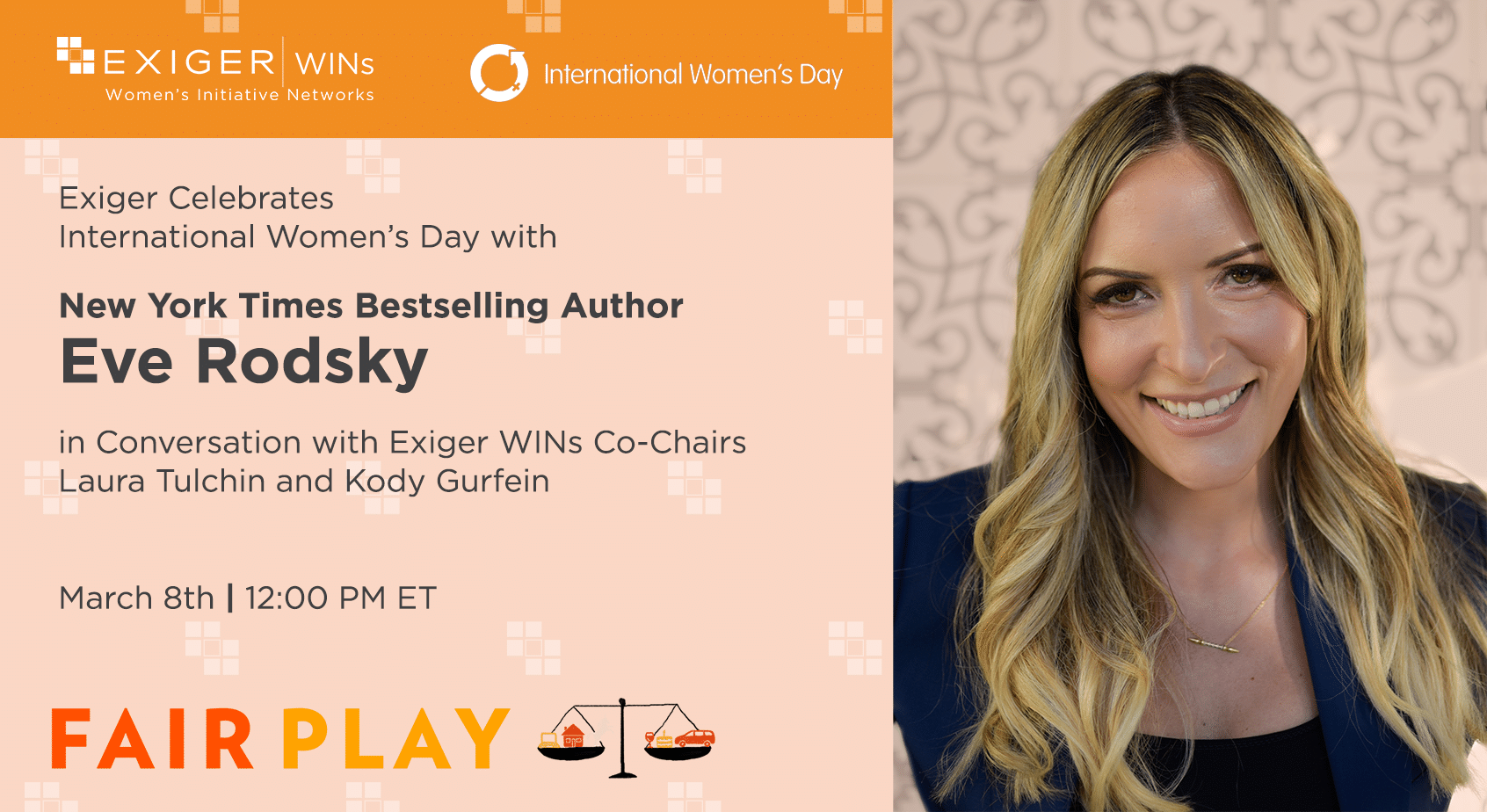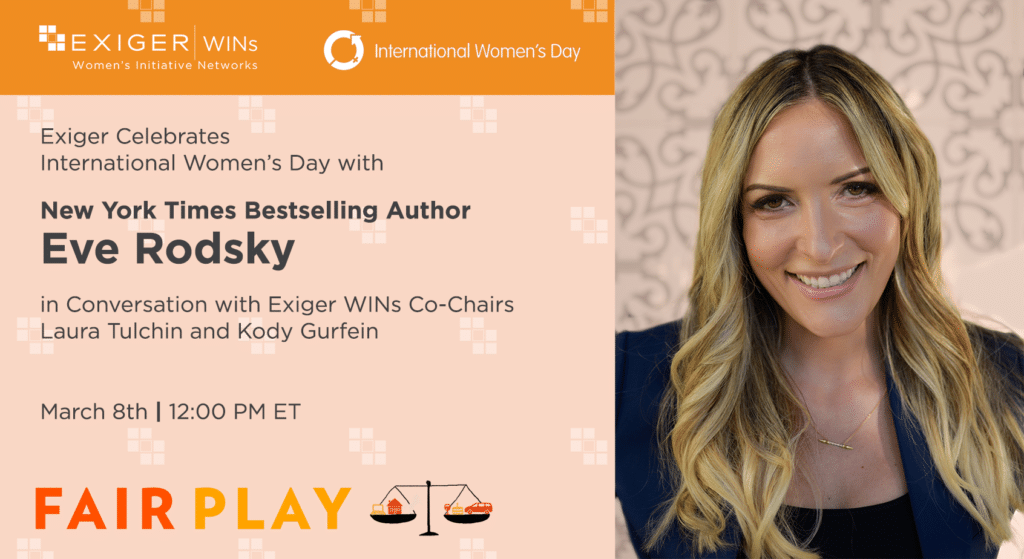 Eve Rodsky is an expert facilitator and the author of Fair Play, a time- and anxiety-saving system that offers working families a completely new way to solve a universal issue: unequal labor in the home.
Women, on average, shoulder two-thirds of domestic responsibilities, regardless of whether they work outside the home. As organizations with gender equity commitments, how can we support women when they're carrying that mental load? Using her Harvard Law School training and years of organizational management experience, Eve Rodsky has created a life-management system to rebalance the unequal emotional labor and "invisible work." Through stories and statistics, Rodsky takes us on a journey of what it means for women to fully step into their power in the world and in the workplace by allowing men to fully step into the home. Corporate culture leaders will leave armed with practical tools for creating a more equitable, welcoming workplace environment.
Keynote with Author and Organizational Expert Rita McGrath
FCA Women's Economic Empowerment TechSprint
Exiger's Jariya Laoriendee and Nina Ryan participated in FCA's  4-day virtual TechSprint, an event that brings together teams of majority female regulatory, technology, data and financial services experts. We are also proud to announce that Ryan's team won the Jump Award for the project "most likely to go straight to prototype".
Their aim is to find solutions to issues that are being made worse by the coronavirus (Covid-19) pandemic or where women are being disproportionately affected. Through this TechSprint we aim to empower women by exploring innovation to increase women's financial inclusion, resilience and access. Learn more
IWD Charitable and Service Projects
Letters Against Isolation Service Project
Cycle for Smartworks
Smart Works is a UK charity that dresses and coaches unemployed women for job interviews. The charity exists to give women the confidence they need to reach their full potential, secure employment and change the trajectory of their lives. In the last year, 65% secured a job within a month.
Charities like Smart Works are more critical than ever before. According to the BBC and other research publications issues in the past 6 months, we are in the midst of a "shecession". The "Covid-19 recession has had a disproportionate effect on women's finances and job prospects. Unlike other modern recessions, the pandemic recession has led to more job losses among women than among men, especially in hospitality and retail with these sectors also vulnerable to lockdown measures. Globally, women's job losses due to Covid-19 are 1.8 times greater than men's."
This year, we beat our donation and milage targets of 500 miles to provide dresses and coaching to unemployed women for their job interviews.
Covenant House
For more than four decades, Covenant House has helped transform and save the lives of more than a million young people. Coming off the streets, many of the young people they serve are usually disconnected from their families and other critical social support for kids who have endured traumatic and adverse childhood experiences. Covenant House's comprehensive program model builds a life-affirming bridge for young people by engaging youth on the street (Street Outreach) providing no-barrier, safe, short-term housing to meet their immediate needs (Immediate Care), and longer-term transitional housing (Rights of Passage) to assist those who are ready for more independent living.
At Exiger, we work every day to make the world a safer place to do business. Safe means something very different to the young people served by Covenant House many of whom are victims of terrifying home environments and human trafficking forcing them to seek 'safety' on the streets of many of the cities in which Exiger has offices and / or supports clients. In terms of donations, we are proud to state that we placed 6th out of 39 teams through Exiger's philanthropic arm, Exiger Cares.
The risk landscape is constantly changing. Hear about the latest with Exiger.