The future of innovation depends on all of us, and gender equality can't wait.
That's why for the fourth year, Exiger WINs (Women's Initiative Networks) was thrilled to partner with Cornell Tech's Break Through Tech Winternship program.
Harshita Ahuja was one of two talented young women who joined us to accelerate her future in tech. To learn more about how we're working to close the gender gap, read on for Harshita's Exiger Experience: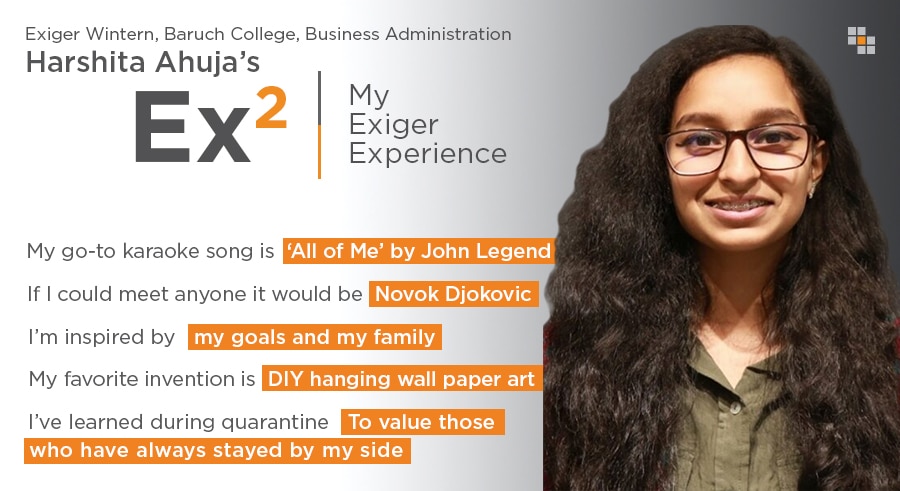 Why Exiger Works for Me
The opportunity: The Winternship program has been a valuable opportunity for me to meet people from diverse backgrounds and get to learn their stories. I found it exciting to be surrounded by ambitious people who were willing to guide me at every step of the way despite living in a virtual environment.
The experience: During my time at Exiger, I worked on researching and incorporating ESG metrics to be inputted within DDIQ. Once this was done, my peers and I worked on finding crowdsourcing websites to extract key data points and, later on, defined an ESG event for DDIQ. Throughout my project, I have met several people at Exiger specializing in specific teams and learned tremendously about their role and experiences. It has been an insightful journey getting to know some of the most dedicated people at Exiger.
Looking ahead: I am constantly inspired by my friends, family, and people I meet throughout my life to pursue what I believe in. At Exiger, I have been inspired by the close-knit community that is always willing to work together and provide feedback to improve for future. As someone who values self-development, it is the fact that I have yet to achieve my goals and dreams that keeps me moving forward.
About Cornell Tech's Break Through Tech Winternship Program
The Winternship program is a paid, three-week, mini-internship experience for CUNY students who are interested in pursuing a career in tech. This immersive experience in January exposes students to job opportunities in tech while helping them to build a strong resume, a larger community of CUNY students, and a professional network.
About Exiger WINs (Women's Initiative Networks)
Exiger WINs is committed to attracting, promoting and retaining top female talent. Exiger's biggest asset is our people, and we believe that raising awareness of the challenges facing women in the workplace while driving female leadership is critical to our success. Exiger WINs focuses on three specific areas that help us raise the bar on female professional leadership and representation – programming and events that: foster employee relationships and mentorships, close the gender gap for women in technology and encourage corporate policies that support families.