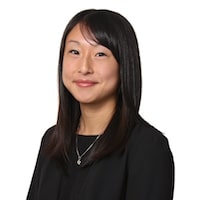 Akane Kokubo is a Vice President, Business Development, based in Exiger's New York office, where she focuses on business development and consulting efforts related to regulatory & financial crime, risk & compliance, including both advice and solutions for the firm.
Akane joined Exiger from Dow Jones, where she was a Sales Specialist for Risk and Compliance. While there, she advised institutional clients on anti-money laundering and anti-corruption solutions, presented options to clients to monitor global third-party risk, and cultivated relationships with Fortune 1000 clients in a myriad of industries.Prior to Dow Jones, Akane worked as an Associate in the Business Intelligence Group at Goldman Sachs, where she conducted due diligence for the firm's major divisions and became Lead Associate for the financial services, insurance, and real estate industry groups. She prepared risk assessments of the various companies and management involved in transactions, worked with outside investigative teams, and collaborated with satellite offices around the world.Before this, Akane worked at Bloomberg, where she began as an Analytics Desk/Global Sales Client Support Representative, and later served as an Account Manager covering Goldman Sachs and Bank of America. Her efforts involved expanding the use of company products and managing relationships with clients.
EDUCATION
Cornell University, B.S.