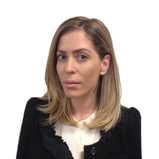 Vice President, Business Development
Lara Pedrini is Vice President, Business Development, based in Exiger's New York office.
Lara joined Exiger from Dow Jones, where she was Director of Risk & Compliance. While at Dow Jones, she advised institutional clients on data and due diligence solutions for global anti-money laundering (AML), anti-bribery and corruption (ABC) and other risk management programs. Lara worked with top tier financial institutions on establishing AML/know your customer (KYC) processes for client onboarding and monitoring, as well as high-volume transaction screening. She provided guidance on the recent OFAC Ukraine-Related Sanctions, FinCEN Guidance on Marijuana-Related Businesses, and the 4th EU AML Directive. In addition, Lara worked extensively with leading Fortune 100 companies on establishing risk-based third party screening and due diligence processes for anti corruption compliance and risk mitigation.Before Dow Jones, Lara was a Senior Analyst in Business Intelligence & Corporate Investigations at Diligence, Inc., where she focused on risk management. She advised clients globally on mergers and acquisitions, private equity transactions, IPOs and new business partnerships.Lara also provided litigation support in commercial and criminal cases, including locating and investigating individuals of interest and conducting asset tracing.
EDUCATION
University of St. Andrews, Bachelor (with honors), Columbia University, Masters Degree, Institut d'Etudes Politiques de Paris, Masters Degree
LANGUAGES
French, Romanian, Spanish
AWARDS
Certified Anti-Money Laundering Specialist (CAMS), Teaching Assistant, Columbia Business School, Editor, Journal of Foreign Affairs