International Women's Day is a global day celebrating the social, economic, cultural and political achievements of women. The day also marks a call to action for accelerating gender parity. Marked annually on March 8th, International Women's Day (IWD) is a visible day of the year to:
Celebrate women's achievements
Raise awareness about women's equality
Lobby for accelerated gender parity
Fundraise for female-focused charities
Read on to find out how we're celebrating IWD's theme, Break the Bias, this month:
Fundraising
Razom for Ukraine WINs-A-Thon
Double your donation for this women-led non-profit supporting Ukrainian people in Emergency Response Efforts – Exiger will match up to $20K!
Ukraine Efforts from the Bucharest Office
Non-monetary donations are being collected by the Bucharest Talent & Culture Team and sent to the Isaccea border checkpoint. Bucharest office has also launched "Call for Volunteers" to Russian speaking colleagues to ask to volunteer part of their working time as translators for the refugees in Isaccea. If you would like to make further donations:
CycleWorks
Our team is cycling 500 miles for this UK-based charity that dresses and coaches unemployed women for job interviews.
Events
Lessons From Women Leaders In Supply Chain and Operations
March 18th | 12PM ET | RSVP for Panel
Hear from three women leaders in supply chain and operations who've moved up to the executive ranks. Their advice and insights on the most important skills and actions to advance can help you elevate your career as well. They'll also share how organizations can best support women's efforts to advance in these historically male-dominated fields.
Panelists:
Sheri Hinish, Global Sustainability Services Lead, IBM
Melanie Jones, President, Sysco
Carrie Wibben, President of Government Solutions, Exiger
Moderator:
Linda Dunn, Faculty Director, Georgetown University SCS Supply Chain Management
Women's History Month Social & Awards Ceremony
Friday, March 23rd | 12PM ET
We're meeting on the TriplePlay platform for interactive games, Exiger trivia and speed networking, along with our first Exiger WINs awards ceremony.
The Antidote to Burnout is Unicorn Space – Workshop with Bestselling Author Eve Rodsky
Wednesday, March 30th | 9AM ET
If we want to avoid burning out, opting out, and continuing to battle with mental health struggles like anxiety, chronic fatigue and depression, we each must set true boundaries at work and at home so that we can cultivate our curiosities, interests and passions, and remember who we are apart from our jobs and separate from the family roles that can define us. Eve Rodsky calls this brand of creative expression-Unicorn Space-and explains why creating time for it is not optional, but essential to our sense of self, our physical and mental well-being, the health of our partnerships, and our ability to model what a full and meaningful life looks like to our children, friends, colleagues, and communities. Join Eve to learn more about the antidote to burnout.
Exiger WINs Awards
This year we are hosting our first WINs Awards, where Exiger employees can nominate colleagues who lead by example in any of the following categories:
Courage & Integrity
For speaking out for what you believe in — even if unpopular. For taking risks and giving honest feedback.
Diversity & Inclusion
For providing equal opportunities across genders. For championing dynamics of safety and inclusion.
Leadership and Mentorship:
For encouraging women's growth and development professionally. A supportive resource for female professionals to their career in the office and at home (e.g. family leave).
All Exiger professionals are eligible for entries. 3 winners for each category will be announced during our social event on March 23rd.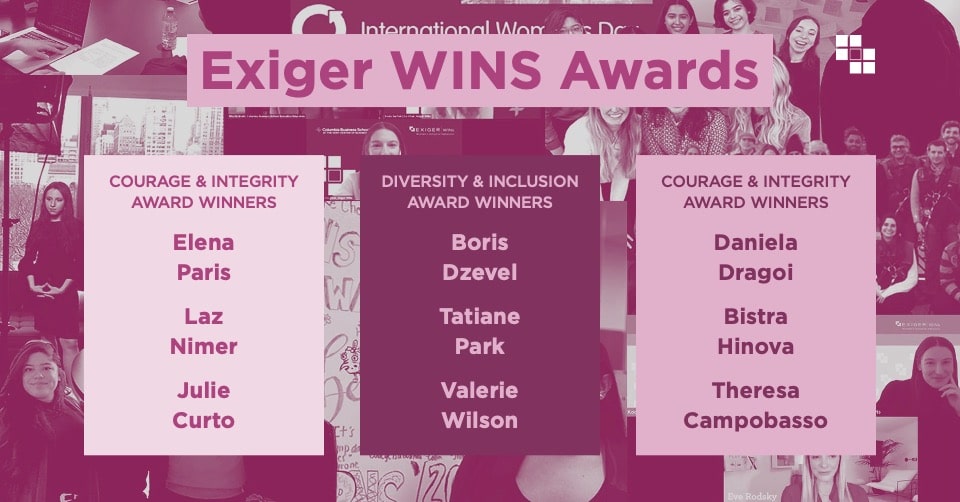 Other Initiatives
ACAMS Global Voices
Samar Pratt sits down with ACAMS' Howard Fields to discuss ESG on International Women's Day.
My Exiger Experience: Afsana Rahman
From Wintern to full time analyst, look forward to our upcoming interview with Exiger's Afsana Rahman.
LinkedIn Learning
Challenge yourself with this month's series of courses focused on celebrating women. Looking for more? There is also a second round of courses on #BreakingtheBias found here.