New Multi-Year Enterprise Contract for Supply Chain Risk Management (SCRM) Platform Now Available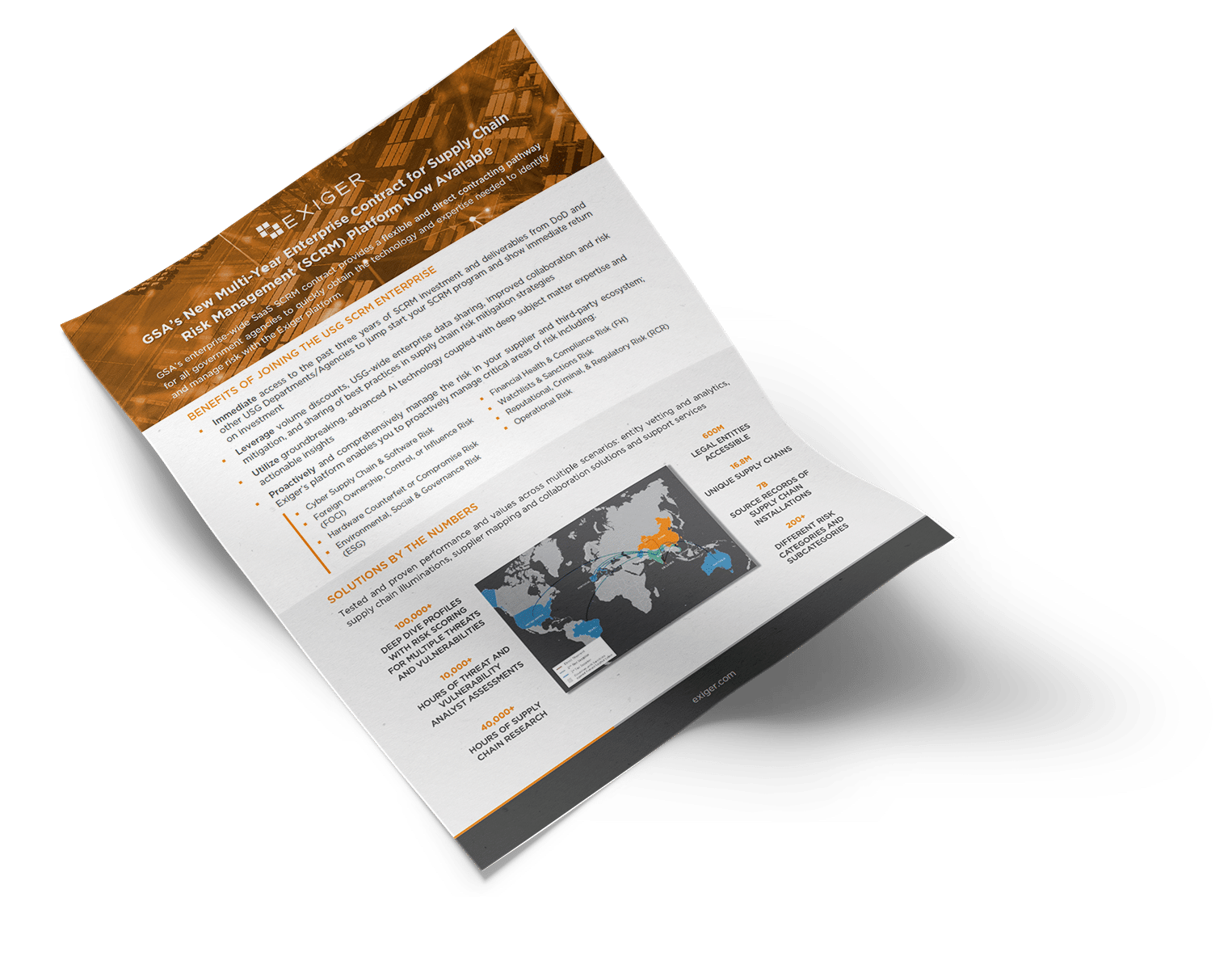 GSA's (General Services Administration) enterprise-wide SaaS SCRM contract provides a flexible and direct contracting pathway for all government agencies to quickly obtain the technology and expertise needed to identify and manage risk with the Exiger platform.
Join the 30+ Government Organizations Partnering with Us Today:
Access three years of SCRM investment and deliverables to jump start your SCRM program, and more . . .
Leverage volume discounts, USG-wide enterprise data sharing, risk mitigation strategies, and more . . .
Utilize groundbreaking, advanced AI technology coupled with deep subject matter expertise and actionable insights
Proactively and comprehensively manage the risk in your supplier and third-party ecosystem in key critical areas
Get in touch and access a sample of completed proprietary market research and supply chain illumination topics. Fill out the form to get started today.
DEEP DIVE PROFILES WITH RISK SCORING FOR MULTIPLE THREATS AND VULNERABILITIES
LEGAL ENTITIES
ACCESSIBLE
HOURS OF THREAT AND
VULNERABILITY
ANALYST ASSESSMENTS
SOURCE RECORDS OF
SUPPLY CHAIN
INSTALLATIONS
HOURS OF SUPPLY
CHAIN RESEARCH
DIFFERENT RISK
CATEGORIES AND
SUBCATEGORIES
Exiger Selected as Government-Wide Enterprise Supply Chain and Third-Party Risk Management Platform
After years of supporting government agencies in Supply Chain Risk Management (SCRM), Exiger has been awarded a new multi-year SaaS contract that provides a streamlined path for Federal Government agencies to obtain critical solutions and expertise to effectively identify risk and proactively manage supplier health.
See Why Exiger's Platform Helps When It Matters Most
Exiger Prevented $500M of Fraudulent and Adversarial Sourced Counterfeit Supply Acquisition Investments In Our Support of the COVID-19 Response
20 Years Government Performance and Partnerships with Tangible & Proven Results