Over the next few months and potentially beyond, the U.S. and Europe will face shortages and price hikes of diesel fuel, which is integral to industry and global supply chains.
Diesel as an Energy Source
In the U.S., "diesel" is the same as heating oil, which is used to heat homes, especially in the Northeast. Diesel engines, which have superior fuel economy than their gasoline counterparts, are used for large commercial vehicles in the U.S. and Europe; diesel powers a larger share of the auto fleet in Europe than in the U.S. after European governments pushed adoption to reduce carbon emissions. Diesel is used for trucks, buses, ships, and trains, and is the fuel of choice for most engines in farm and manufacturing equipment.

Causes
The diesel crunch has a number of causes. In the U.S., the pandemic lockdown lowered demand, which led to refiners closing less profitable plants. But more impactfully, the post-pandemic push toward a "green economy" has bred underinvestment in oil refining infrastructure even as demand has returned.
Russia's escalation of its conflict with Ukraine compounded the problem. Although the U.S. is a producer and net exporter of diesel, the Ukraine war has distorted global energy markets. Indeed, the U.S. diesel deficit entering this winter is largely driven by American exports replacing domestic sales—especially exports to Europe, which depends mainly on imports for its diesel supply. Brokers are taking advantage of Europe's situation to fetch higher prices.
The U.S. also halted oil imports from Russia in April 2022, removing a small but potentially valuable diesel buffer.
Impact on U.S.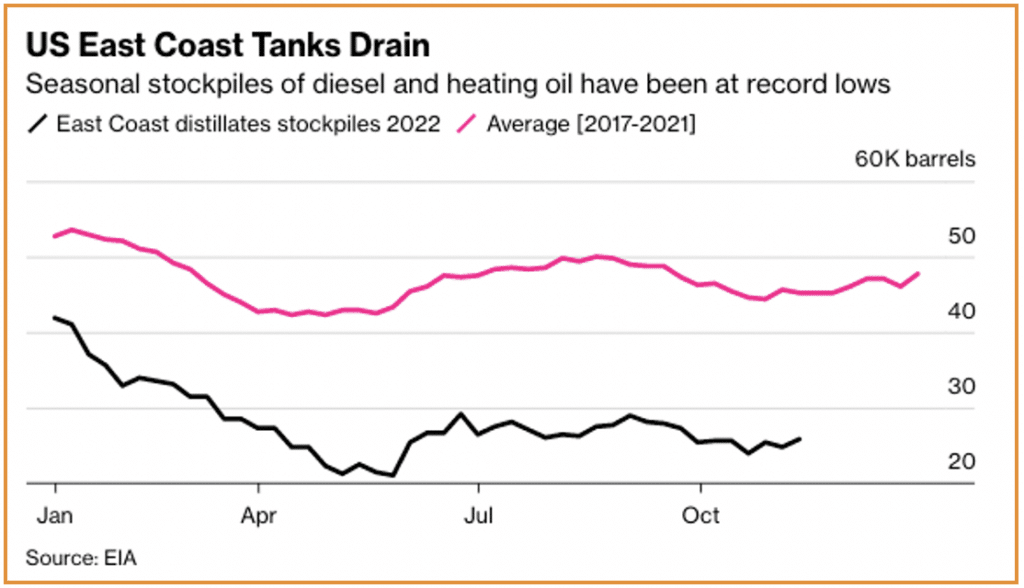 U.S. diesel inventories have trended down since the summer of 2020. They are at roughly 10 percent below their previous five-year low.
As a result, retail diesel prices are surging, as is the cost to heat homes. As temperatures drop and many thousands of U.S. households use heating oil as their principal source of energy, costs will continue to swell.

Beyond heating homes, diesel is the fuel of the economy. Most manufactured and retail goods move on trucks and trains powered by diesel. It powers farming equipment and various forms of industrial manufacturing. As U.S. diesel prices rise, so too will the prices of retail and commercial goods. This could boost inflation in the midst of a Federal Reserve-driven recession meant to do exactly the opposite.
Impact on Europe
Unlike the U.S., Europe, as an importer of diesel, faces greater risk of actual diesel shortages and unavailability. Come early Feb. 2023, EU sanctions—Europe's policy response to the Russian war in Ukraine—will end its sourcing of 200 million barrels of diesel per year from Russia, Europe's largest external supplier. Europe is busy attempting an unprecedented pivot to diesel and gasoil imports from the Middle East and India.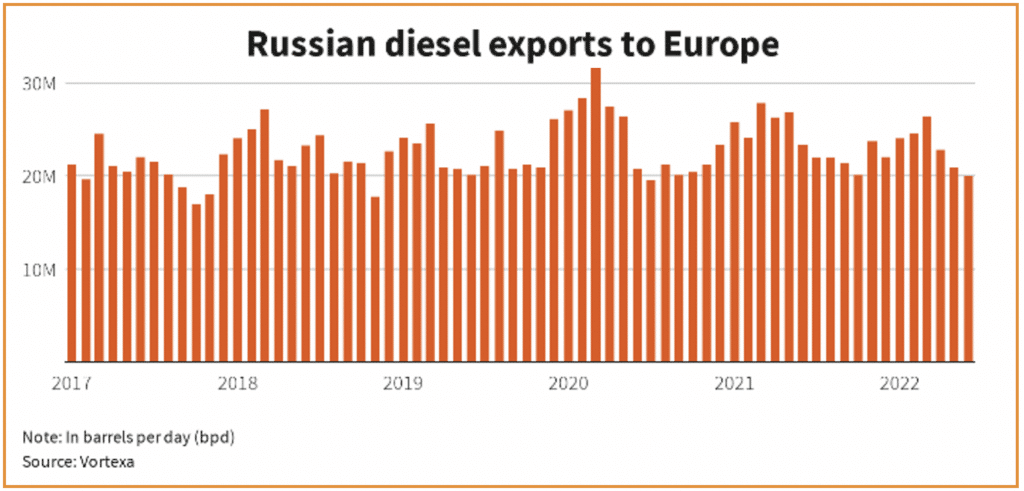 Compared to the U.S., the impact on Europe will likely be significantly harsher. Further diesel price hikes will drive up the costs of transportation and industrial activity. This can potentially cause additional European businesses to stop operating with knock-on supply chain disruptions throughout the region and world. If Europe's heavy-duty vehicles that use diesel cannot operate because of unsustainable diesel costs or the oil's outright unavailability, transportation needed to perform basic services—like delivering food to supermarkets—could be impacted.
How Exiger Can Help
Exiger's technology platform and solutions like Supply Chain Explorer and DDIQ can help pinpoint suppliers and markets most impacted by the diesel crunch and other pressing geopolitical changes. We allow your organization to understand and then address its supply chain risks.
Contact us today to discuss how Exiger can support your organization.
This client alert was compiled by Tim Stone of Exiger.