Fortune writer Nicholas Gordon called on Exiger CEO Brandon Daniels to help companies & consumers know what to expect when the Uyghur Forced Labor Prevention Act (UFLPA) takes effect on June 21: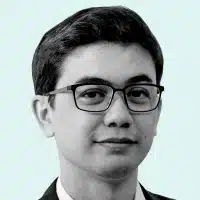 Until then, Americans could see fewer items on store shelves, says Brandon Daniels, CEO of Exiger, a platform that helps companies manage due diligence and supply chain risks. "If you're wearing a shirt that's made in China, or have a computer [with parts] made in China… you may see these goods inspected and seized in the near future," he says.

Port wait times will likely spike this summer, but Daniels expects the inspection process to normalize by the fall since importers and border services will want to prevent another Christmas supply chain crunch.

NICHOLAS GORDON
Writer, Fortune
The article also covers the Ocean Shipping Reform Act, which which increases regulator oversight on shipping fees and cargo manifests.
Click below for full article: