What is the Uyghur Forced Labor Prevention Act?
The Uyghur Forced Labor Prevention Act (UFLPA) took effect in the United States on June 21, 2022 to prohibit importation of goods into the United States that were produced by forced labor in the Xinjiang Uyghur Autonomous Region (XUAR) of China. In Xinjiang, human rights organizations allege that over one million Uyghurs and other Muslim minority groups have been subjected to forced labor and genocide. To prevent the potential importation of goods produced by forced labor, the entire region is included in the act, and companies are responsible for ensuring that their entire supply chain is in compliance.
[WEBINAR | Mission Critical: Is China's Modern Slavery Risk Hiding in Your Supply Chain? ]
The volume of goods and materials covered by the UFLPA is staggering and will impact many industries, especially apparel.
The World Relies on Xinjiang for Cotton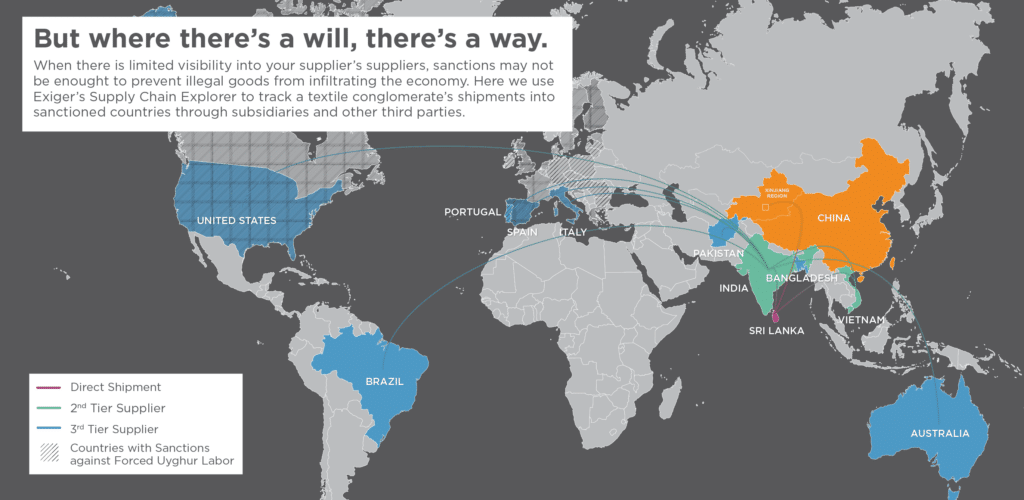 20% of the world's cotton is produced in China
86% of that cotton is produced in the Xinjiang region
52% of China's exported cotton is shipped to intermediary manufacturers in other countries and then supplied to 103 well-known global brands
Click below to read our the Xinjiang Cotton Shipments vs. Global Sanctions case study to learn how our analysts leveraged our technology platform to view the impact of sanctions on Chinese cotton production.
UFLPA: The Rebuttable Presumption
The rebuttal presumption is indicated in Section 3 of the UFLPA. It states that all goods produced, even in part, in the Xinjiang Uyghur Autonomous Region (XUAR) are assumed to be made with convict labor and that CBP cannot allow these imports to enter the United States. The CBP was previously allowed to issue withhold release orders (WROs) on items that were produced by forced labor, but the rebuttal presumption now expands this power to all goods coming from China's Xinjiang Uyghur Autonomous Region.
"The downstream impact is deliberately and potentially vast. The rebuttable presumption included in the UFLPA means that almost any goods coming from China that are comprised of cotton, refined metals, circuits, and polysilicon are reasonably subject to inspection and due diligence," Exiger CEO Brandon Daniels explained. "This has the potential to be just as sweeping and impactful as the Bank Secrecy Act, anti-money laundering and counter terrorist financing (BSA/AML/CFT) changes after 9/11." As Daniels stated in a recent Fortune article detailing potential UFLPA supply chain disruptions, the effects of the act will be felt by consumers.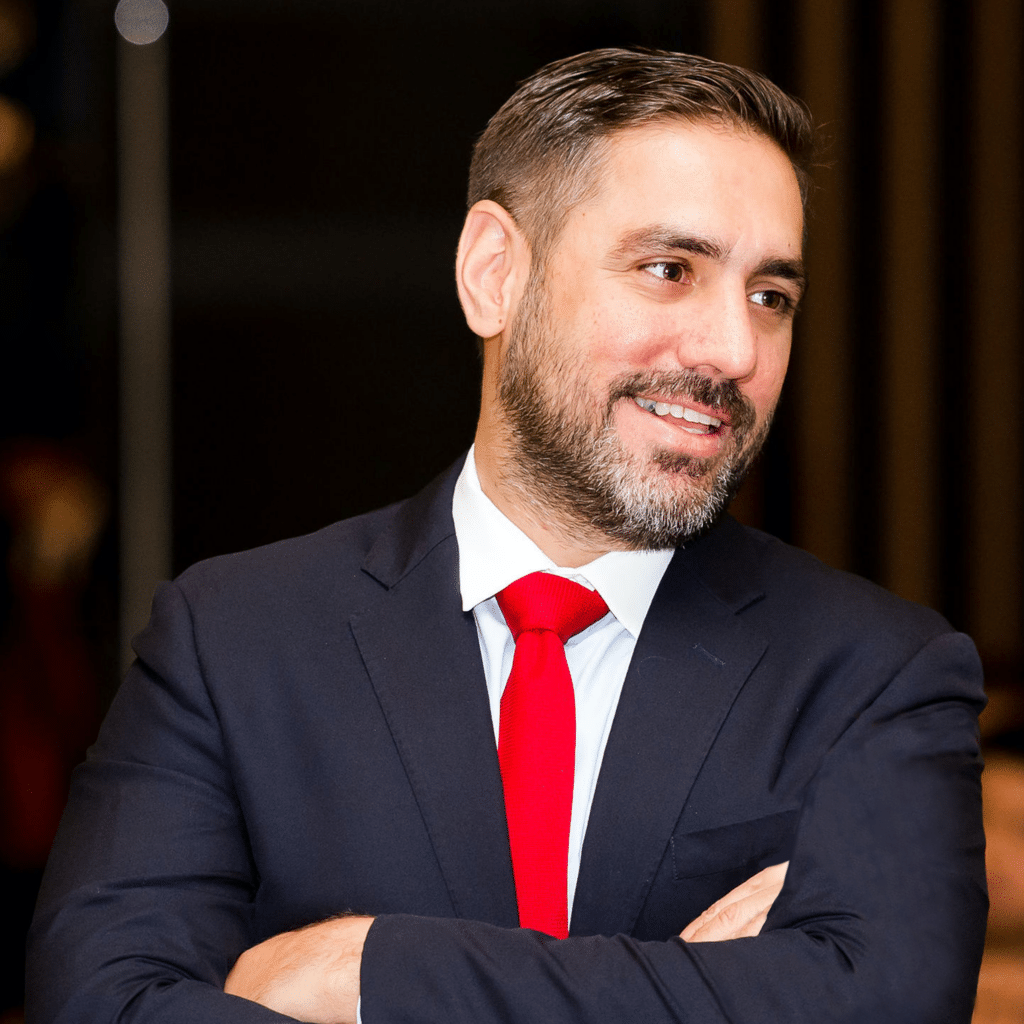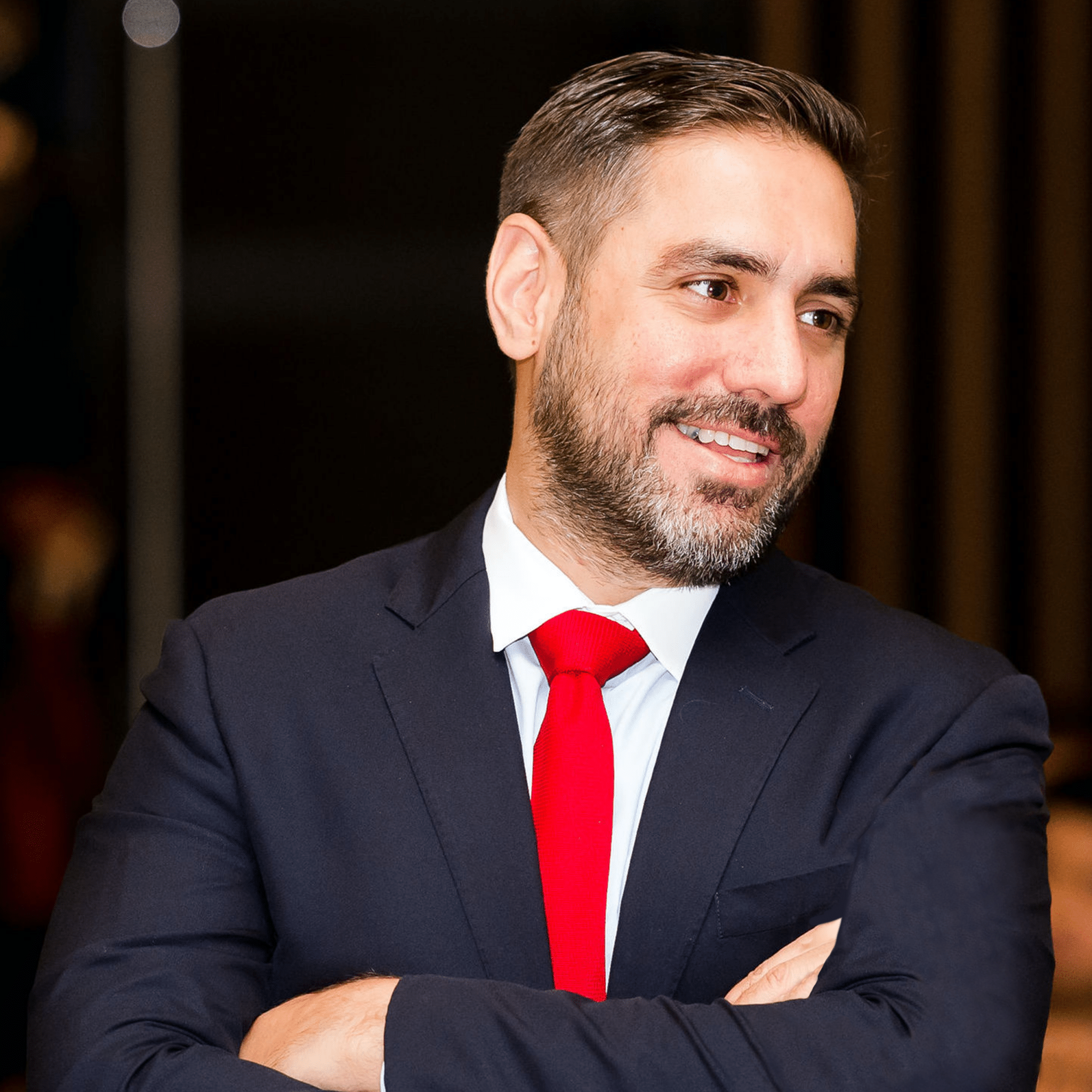 If you're wearing a shirt that's made in China, or have a computer [with parts] made in China… you may see these goods inspected and seized in the near future.

Brandon Daniels

UFLPA: Cotton, Polysilicon and Tomato Products are High-Priority
In accordance with the UFLPA, the Forced Labor Enforcement Task Force must create a list of entities that engage in forced labor in XUAR. Sanctions already dictated by the act include cotton, polysilicon, and tomato products from the region. These products will see additional scrutiny upon entry to the U.S. and require comprehensive supply chain documentation to rebut UFLPA presumptions.
CBP released specific guidance for supply chain documentation that should be submitted for these products.
UFLPA: Enforcement Plan
In order to ensure goods from the high-priority sectors are kept from entering the country, the act includes an enforcement strategy. The Forced Labor Enforcement Task Force was created to comply with Section 741 of the United States-Mexico-Canada Agreement Implementation Act. It is the governing body created to ensure the United States does not import goods produced by forced labor. To enforce the UFLPA, the Forced Labor Enforcement Task Force must create an enforcement strategy for each high-priority sector. Each sector must have its own plan.
U.S. Customs and Border Protection (CBP) released UFLPA operational guidance in June 2022 to explain how it will identify Xinjiang goods and enforce the UFLPA:
CBP must apply a presumption that imports of all goods, wares, articles, and merchandise mined, produced, or manufactured wholly or in part in the Xinjiang Uyghur Autonomous Region (Xinjiang) of the People's Republic of China (PRC), or by entities identified by the U.S. government on the UFLPA Entity List, are presumed to be made with forced labor and are prohibited from entry into the United States.
The presumption also applies to goods made in, or shipped through, the PRC and other countries that include inputs made in Xinjiang.
The presumption is rebuttable, and, to overcome it, importers must, among other requirements in the UFLPA, respond to all CBP requests for information about merchandise under CBP review and demonstrate by clear and convincing evidence that the good, ware, article, or merchandise was not mined, produced, or manufactured wholly or in part by forced labor.
The UFLPA also requires that importers demonstrate due diligence, effective supply chain tracing, and supply chain management measures to ensure that they do not import any goods made, in whole or in part, by forced labor, especially from the Xinjiang Region. This requirement extends throughout the entire supply chain, to include goods that may be shipped from elsewhere in the PRC and to third countries for further processing.
According to CBP operational guidance, CBP will enforce the UFLPA by taking specific enforcement actions, including identifying, detaining, and/or excluding, or seizing shipments subject to the UFLPA's rebuttable presumption, depending upon the specific facts involved in each importation. CBP will review each shipment for UFLPA applicability, and appropriate action to be taken, on a case-by-case basis.
CBP will provide importers with notice, in accordance with the customs laws, when enforcement actions are taken on their shipments. In response to a detention notice, exclusion notice, or notice of seizure, an importer may provide information to CBP to request an exception to the UFLPA's rebuttable presumption.
To grant an exception, CBP may require importers to provide documentation from five categories:
Due Diligence System Information
Supply Chain Tracing Information
Information on Supply Chain Management Measures
Evidence Goods Were Not Mined, Produced, or Manufactured Wholly or In Part in the Xinjiang Uyghur Autonomous Region
Importers may also identify additional shipments that have identical supply chains to those that have been reviewed previously and determined to be admissible by CBP, to facilitate the faster release of identical shipments.
[Need more transparency in your supply chain? Consider Exiger's supply chain risk management software that can help surface all risks that might be hiding deep within your supply chain.]
Complying with the UFLPA
In order to comply with the UFLPA, companies must evaluate their supply chains and take any necessary action. Review these steps to learn what your company needs to do for UFLPA compliance.
Assess Supply Chain Links to XUAR
To begin the compliance process, assess your supply chain. This process is simplified by utilizing supply chain risk management software.
This type of software replaces manual review of volumes of disparate data sources. It also provides visibility into each tier of a company's supply chain, allowing risk management analysts to identify where points in a supply chain may be linked to the XUAR. SCRM software can comb through billions of records related to an entity to surface where your suppliers and their suppliers may harbor potential risks. If any of your suppliers are linked to the XUAR area, they pose a risk to your supply chain's UFLPA compliance, and you will need to conduct thorough due diligence and potentially, remediation.
Conduct Due Diligence with FLETF's Guidance
Dig deeper into your supply chain by performing due diligence and incorporating FLETF and CBP guidance in respect to high risk commodities. Many companies and government agencies use a third-party risk management solution to conduct due diligence. This type of platform helps your team work efficiently and identify risks more easily.
If you are part of the Residency and Citizenship by Investment (RCBI) Industry, evaluate any links your current employees or new employees may have to the XUAR.
Publicly Note Any Internal Investigations
If you find areas of concern in your due diligence or the CBP informs you of them, you must provide disclosures. This will let the CBP know what you have found in your research and that you are actively investigating any concerns. This will protect you from further risk and keep officials informed where needed.
---
In the Media: Exiger's Expert Take on UFLPA
---
Secure Your Supply Chain with Exiger
The U.S. government is taking tangible steps to eliminate forced labor and human trafficking. The UFLPA is a vital part of this effort. To be UFLPA compliant, there are several supply chain management measures you can take. It is important to:
Understand your third party/supply chain partners
Evaluate your supply chain partners
Look into areas of risk and develop a mitigation plan
Publicly note any internal investigations
Knowing your Tier 1 vendors isn't enough. Modern-slavery issues are three, four, even six levels down in the supply chain. Anti-modern slavery policies without supply chain diligence and tracing aren't enough.
"Exiger is working alongside the Slave-Free Alliance at the frontlines of combating forced labor and modern slavery with advanced machine learning technology that creates supply chain visibility that was never before possible," said Hope for Justice / Slave-Free Alliance CEO Tim Nelson. "They've built the largest forced labor and supply chain data network in the world that our experts will now be able to leverage to help every organization play a part in creating a slave-free future." 
Exiger provides your compliance, procurement and supply chain teams with the technology and subject matter expertise to identify and mitigate risks with the suppliers your business relies upon. We help some of the largest corporations and federal agencies assess their third parties and supply chains to strengthen ESG practices and comply with anti-forced labor regulations.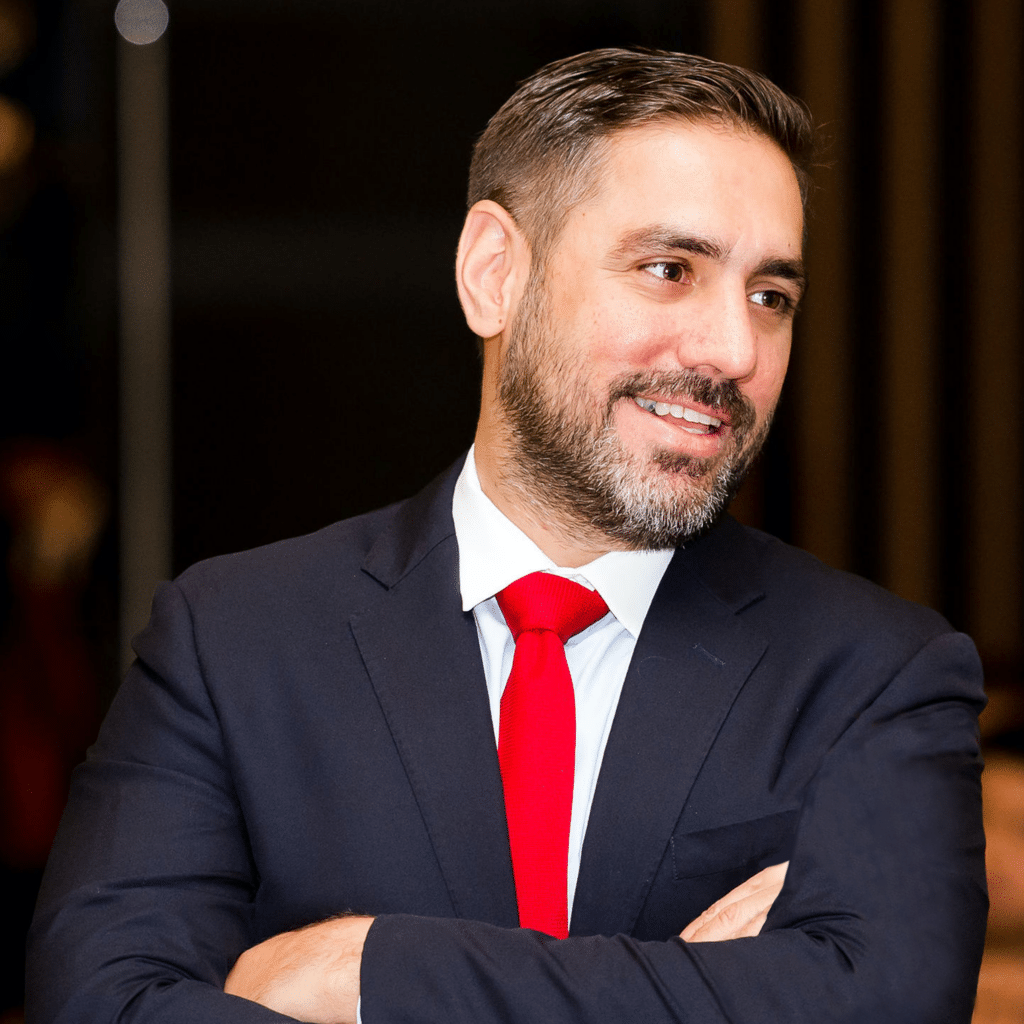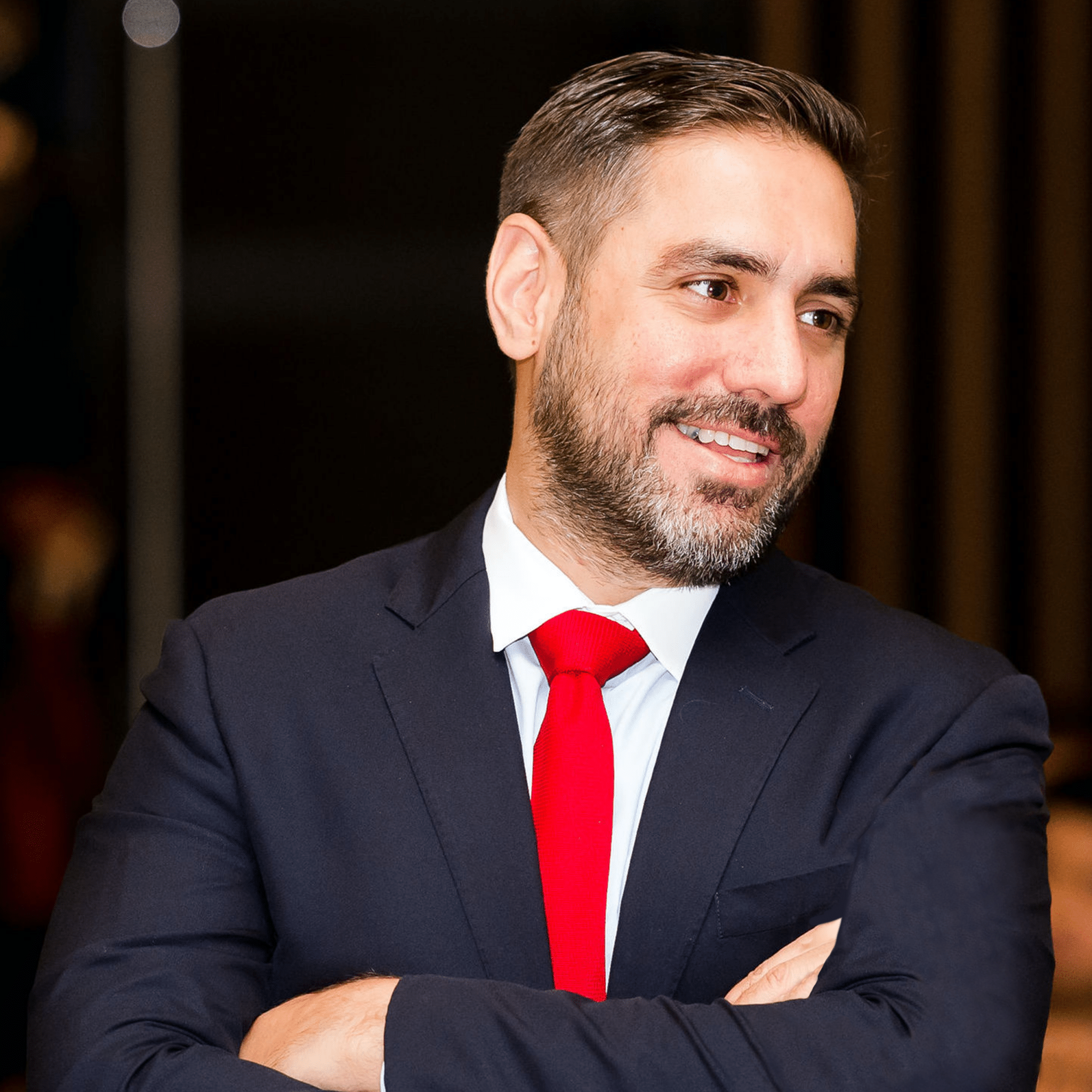 Exiger envisioned Supply Chain Explorer to simplify and democratize supplier and supply chain research, however, over the last two years, it became more than that. It was an opportunity to help the U.S. and our allies identify the impact of sanctions on Russia. It helped our clients rally against Uyghur Forced Labor. It has helped Exiger support the COVID-19 effort to safely procure the supplies healthcare workers desperately needed to save lives.

Brandon Daniels

Supply Chain Explorer is the world's first-ever single-click supply chain risk detection SaaS platform. This next-gen tool delivers instantaneous transparency, allowing companies and government agencies to meet the urgent imperative to protect global supply chains from sanctions, ESG, and cyber risk at unprecedented speed and scale.
Learn how we can help identify and manage risk throughout your supply chain.
---
Related ESG Supply Chain Resources
DHS UFLPA Supply Chain Resources