What is Cyber Risk Management?
In a world where cyber threats are on the rise, many business leaders have been forced to take precautions, with 68% of them feeling their cybersecurity risks are increasing. In a recent CRO survey conducted by Exiger and Stax consulting, cyber risk is now the top supply chain risk management concern, up from the third most pressing concern in 2021. The motivations behind cyber attacks are also diverse and varied—86% of breaches were financially driven, and 10% were forms of espionage. This makes it difficult for governments, banks, and corporations to defend against them.
Cyber risk management empowers both the public and the private sectors to protect their assets and reduce the impact of cyberattacks. It identifies, assesses, and manages risks to digital systems, including hardware, software, data, and networks.
Cyber risk management identifies the assets that are at risk and the threats that could affect them. It includes risk assessment, such as understanding the likelihood of a threat occurring and the impact it could have on your assets. It also involves developing a plan to manage and mitigate risks—implementing security controls, developing incident response plans, and training staff.
Cyber risk management is an ongoing process that should be reviewed and updated regularly. Organizations need to continuously monitor their digital systems for risks and remain updated on security threats and vulnerabilities.
A cyber security risk management program enables your company to assess and evaluate different aspects of cyber risk, looking at the potential severity of each type of risk and its likelihood of occurrence.
[Managing risks can be challenging and complex. Finding solutions and the right platform to manage cyber risk doesn't have to be.]
This article will dive deep into why cyber risk management is essential for your organization and the key features to look for in a cyber risk management platform.
Why Cyber Risk Management Platforms Are Essential
As more functions around the world move online, the threat of cybercrime grows along with it. Businesses are faced with new risks and vulnerabilities and must take steps to protect themselves against the possibility of a digital attack. Collaboration and doing business with outside stakeholders open your organization to third-party risk.
A cyber risk management platform identifies risks and mitigates them while keeping your digital systems and information safe from cyber-attack.
An excellent cyber risk management platform aids the organization throughout the entire process of enterprise risk management, as illustrated by the National Institute of Standards and Technology (NIST) Risk Management Framework: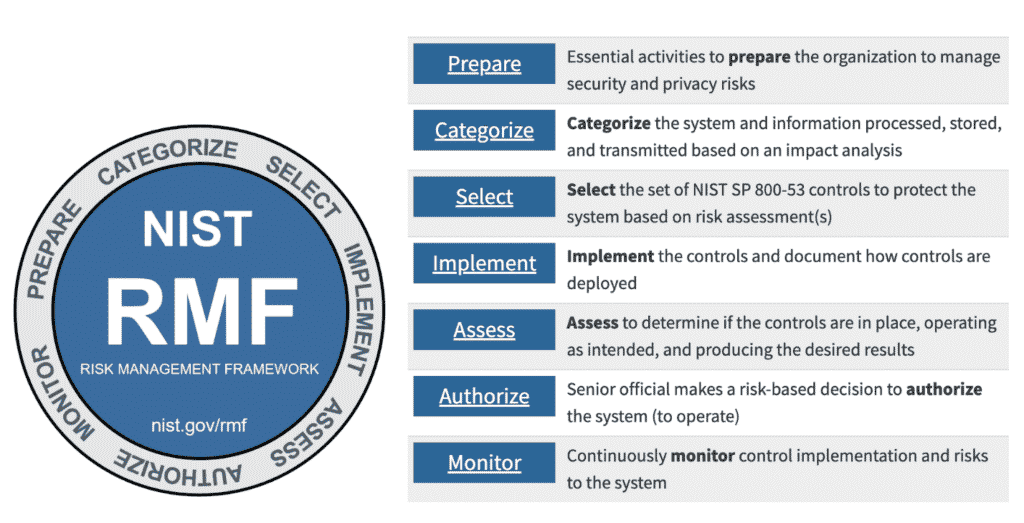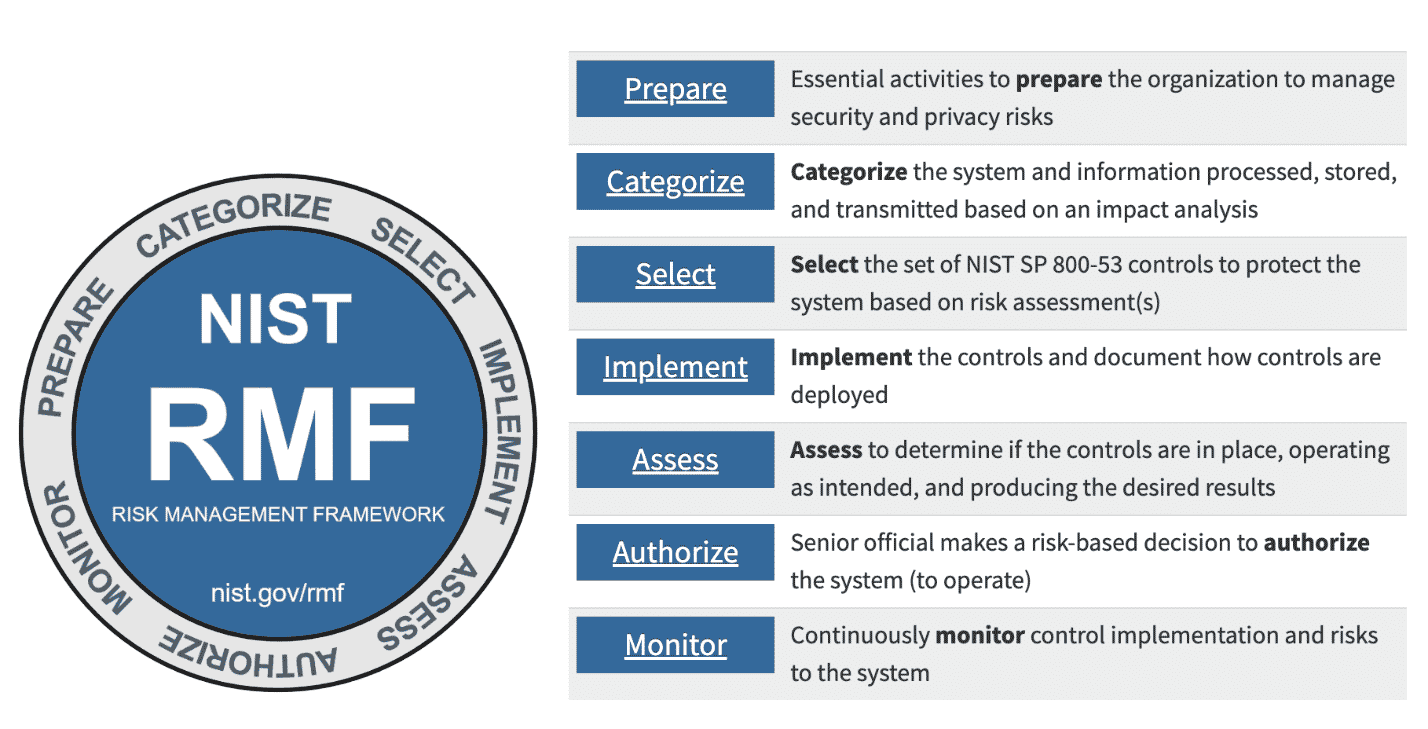 Protection against cyber threats and risks is essential in today's digital and regulatory landscape, where sensitive information can be instantly compromised, and compliance management can be complex. By monitoring digital systems and confidential information, an IT risk management platform empowers your company's governance, risk, and compliance (GRC)—alerting your business to any potential threats and mitigating the operational risk.
Key Features of a Cyber Risk Management Platform
With a myriad of cyber risks that can significantly impact your business, a cybersecurity risk management platform can help you effectively manage risks and protect your business continuity.
There are many different cyber risk management platforms on the market today, and choosing the right one for your organization depends on features and functionalities that fit your needs.
Here are some features to look out for when choosing a cyber risk management platform:
Adaptable platform
Risk assessment and risk quantification capabilities
Real-time reporting
Automation
Exiger's supply chain risk management solutions are helping companies surface their entire supply chain ecosystem and illuminate the risks lurking deep within to address the blind spots of doing business in an opaque global market.
With Exiger, your organization can quickly identify and mitigate threats to every level of the supplier ecosystem with just one click. Supply Chain Explorer delivers vendor risk management with unparalleled transparency, empowering companies and government agencies to meet the urgent imperative to protect global supply chains from sanctions, ESG, and cyber risk at unprecedented speed and scale.
[Is your supply chain not as transparent as you would like? Consider Exiger's supply chain risk management software to help surface all risks that might be hiding deep within your supply chain.]
Adaptable Platform
A cyber risk management platform should be adaptable—it should have the ability to scale up or down to meet the needs of any organization, no matter the size. Scalability is necessary to ensure that the platform can be used by organizations regardless of size and complexity.
Adaptability is also vital in providing a solid security posture considering a largely distributed workforce compared to one that is situated in a single location. Companies need to adopt innovative solutions for their employees who work remotely or at home offices on cloud-based systems.
With the future of work, businesses need to take security seriously and possess adequate security tools for their remote team. Treating employees' homes like branch offices means they can enjoy all the security features in corporate settings—speed, performance, and reliability.
Risk Assessment Capabilities
Government and industry organizations have long used risk assessments to protect their assets, and these capabilities are now becoming increasingly important in the cyber realm.
Risk assessments help organizations understand their risk posture—what kinds of risks they face and how likely they are to occur. Understanding an organization's risk profile involves putting in place methodologies, questionnaires, and case studies that compliance management and security teams can access anytime. As such, enterprises become more empowered in their decision-making on which risks to prioritize— mitigating threats and protecting their assets.
Real-Time Reporting
Real-time reporting is critical for understanding an organization's risk profile and posture. A cyber risk management platform can automate the report generation process and provide customizable dashboards and workflows showing various risk data and metrics. By having this information readily available, organizations can make informed decisions about allocating resources for risk mitigation and remediation.
A cyber risk management platform can also help automate the re-evaluation of third-party relationships and risks as they are introduced. By having a system in place to track these changes, organizations can be sure that they are always aware of their exposure and can take steps to mitigate any new risks that may arise.
Automation
The best cyber risk management platforms will offer sophisticated levels of automation.
Automation can help reduce the manual work required to manage your cybersecurity risk. This can take many forms—from automatic alerts and aggregate data to information security monitoring and audit management. Automation can help your organization keep track of changes in your environment and quickly respond to potential threats.
When choosing a cyber risk management platform, look for one that offers the features and levels of automation that best meets not just your current, but future needs.
Protect Your Systems with Exiger's Cyber Risk Management Platform
Protecting your systems from cyberattacks is critical to the success of your business. By leveraging a cyber risk management platform, you can protect your systems and data from cyberattacks.
Exiger's cyber risk management platform offers critical features that you need to keep your organization safe online. Exiger is arming companies and governments with flexible solutions to take control of their supplier exposure story and inform their decisions with comprehensive real-time data accessible with the click of a button.
Some key features of the Exiger platform include:
A flexible and scalable platform that can be tailored to an organization's specific needs
A centralized view of an organization's cyber risk exposure
The ability to identify and assess cyber risks across the supply chain
The ability to take proactive steps to mitigate cyber risks
Compatibility with a comprehensive risk assessment framework to cover all aspects of an organization's cyber risk exposure
Exiger's platform is a powerful tool to help organizations effectively manage their cyber risks.
Take proactive steps to mitigate risk and protect your business today. Request a free, comprehensive trial of Supply Chain Explorer.