What Is Risk Intelligence?
Risk intelligence is defined as the solution that helps businesses regularly identify and avoid or manage the impact and duration of stakeholder risk incidents. It is carried out continuously and in a verifiable manner. With risk intelligence, organizations can gain visibility into necessary information that will help them identify, quantify and manage their risks.
Incorporating risk intelligence will unearth potential hazards for businesses from all industry sectors —from cyber risks to financial risks, supply chain failure, extreme weather events, or customer dissatisfaction.
Managing risks across various segments calls for the need for risk intelligence apps. How is it possible to mitigate something that is not monitored?
A case in point is the supply chain risk landscape. A recent study by Gartner identifies that only 20% of global executives say that they effectively monitor their most critical sub-contractors. The general lack of visibility in this area is negatively impacting businesses, which leads to companies taking unexpected hits when issues occur beyond the first tier of the supply chain.
Similarly, different industries face unique service and security risks. Here is where risk professionals must understand the potential threats their industry faces and have risk mitigation plans in place.
A risk intelligence solution like Exiger's Supply Chain Explorer is powered by machine learning and AI. It can help businesses make better decisions in real-time by quantifying and prioritizing the risks that need to be managed.
Keep reading the article, as we will share best practices for how to act on risk intelligence and explore effective means of improving risk management with automation.
Need more transparency in your supply chain? Get a trial of Exiger's supply chain risk management software that surfaces multi-factor risks hiding deep within your supply chain.
How to Act on Risk Intelligence
Beyond mere information gathering, risk intelligence is a form of actionable intelligence. It gives the right information to the right stakeholders to make the right decisions at just the right time.
Make Informed Decisions on an Enterprise Level
Volatile commodity prices, shifting geopolitical landscapes, and global trade disruptions remind the Board of Directors and key stakeholders that the economic and regulatory uncertainties will influence their enterprise risk management. Since these volatile and uncertain elements can jeopardize previously strong business models, senior executives of multinational corporations need to embrace the risk-informed decision-making framework.
While some common risk management processes do not connect to the firm's strategic framework or performance measurement methods, the risk-informed decision-making framework calls C-suite executives to interlink strategy, risk, and performance.
Where risk management has moved far beyond standard corporate governance, strategy and risk management are linked. Here, the key risks involved are quantified to understand how the risk level changes with various potential strategic development scenarios.
Secondly, strategy and performance are linked to where the game has moved far beyond financial planning and ensures the entire organization moves in lockstep through the use of an appropriately balanced scorecard approach
And when the scenario has changed beyond basic risk-adjusted performance management, interlinking risk and performance grant an alternative perspective to comprehending an organization's portfolio in dynamic mode. This way, executives can respond to the changing operating realities across all organizational hierarchies.
The risk-informed decision-making framework is thus the most efficient way to gain a competitive advantage and inform risk-conscious management decisions.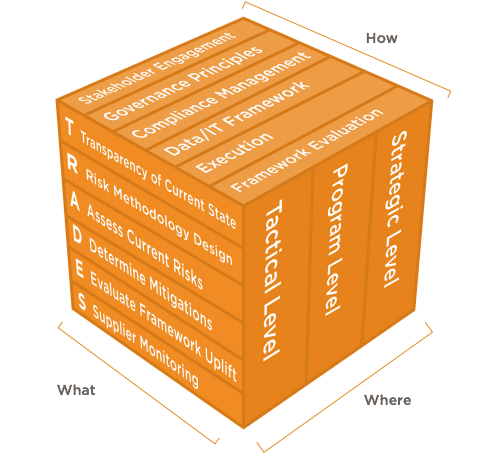 Empowered Decision-making Until You Have Right-Sized Understanding
Obsession with speed can be detrimental when risk management is carried out based on inconsistent intelligence, assumptions, or deregulated environments.
Making hasty decisions on conventional risk assumptions alone can lead to a business's downfall. So, delaying strategic decisions is not always bad. It is a critical buffer time that enterprise leaders can leverage to identify the major shifts in the business environment in advance. Then they could either decide to take advantage of a strategic opportunity presented or adjust to a more defensive strategy. All things considered, risk professionals must learn to make critical business decisions in real-time, which is where reliable AI is needed to review massive amounts of data in a fraction of the time—and time-sensitive decisions at the speed of relevancy and get a competitive advantage.
Record All Risk Data for the Future
The scrutiny from regulators and shareholders has increased the complexity of risk management. Organizations are prone to increased losses when information is not shared transparently with relevant risk managers and decision-makers.
Record management is an important element of risk management since it aids in proving compliance and avoiding potential penalties. If financial service providers lack records, then they could be penalized. There are also lessons to be learned from historical risk incidents or near misses to avoid or reduce future impacts on the business.
Beyond recording the risk data of the business itself, gaining insight into the present and historic context of third-party vendor risk is also equally important, as it helps determine the current risk score.
For more SCRM resources, download your free copy of the proprietary Exiger TRADES framework: The Framework for Modern Third-Party and Supply Chain Risk Management.
How to Improve Your Risk Management
Uncertain times such as the COVID-19 pandemic have revealed that many organizations lack a well-designed crisis management program. Exiger has formulated the TRADES framework for modern enterprise third-party and supply chain risk management to break the mold and elevate the role of risk management. The route that risk leaders should take includes reviewing:
Transparency of current state
Risk methodology design
Assess current risks
Determine mitigations
Evaluate framework uplift
Supplier monitoring
Automate Your Risk Assessments
Risk automation is essential since business organizations are unable to effectively understand, assess, align, track, and resolve risk and compliance issues.
With automation, risks can be managed effectively by control testing and validation, real-time risk exposure reporting, and vulnerability scanning. Risk management solutions from Exiger help monitor and report compliance and governance risks, third-party management, business resilience risks, technology and security operations, and supply chain risks in a centralized space.
Exiger's Supply Chain Explorer rapidly surfaces, understands, and mitigates critical threats to the entire supplier ecosystem down to the nth tier. The general lack of visibility in this area is negatively impacting businesses, which leads to companies taking unexpected hits when issues occur beyond the first tier of the supply chain.
Undisputedly, automating risk management can help businesses tune out the noise, discover and prioritize risks rapidly, and run their operations resiliently and ethically.
Get Actionable Intelligence with Risk Management from Exiger
Risk intelligence is the process through which organizations gather information to identify the uncertainties in their operating environments. Businesses with appropriate risk intelligence can make better-informed decisions.
It is critical that enterprises record all risk data for future purposes and have auditable data when faced with inconsistencies. By employing risk automation, businesses can drastically improve risk management through the improved insight and agility that it offers
Onboarding Exiger solutions can help improve risk management from a centralized platform across governance, risk, compliance, and due diligence. With Exiger's TPRM solution, one company saved over $750,000 in a year and expedited its onboarding process by 80%.
Similarly, Exiger's Supply Chain Explorer helped a global Fortune 100 IT company mitigate severe human rights issues in their supply chain, identify single points of failure in their OEMs, and reduce their volume of vendor refreshes per year from 10,000 vendors to less than 1,000 by employing continuous monitoring in DDIQ; thus allowing the company to continuously refresh vendor data without operational disruption or effort.
Looking to empower your company or government agency to protect supply chains from lurking risks? See Exiger's world's first real-time Supply Chain Explorer in action – request a trial today.