The next generation of women in tech is here –– at Exiger.
In partnership with Exiger Tech, Exiger WINs (Women's Initiative Networks) was thrilled to participate for the second year in a row in Cornell Tech's WiTNY (Women in Technology and Entrepreneurship in New York) Winternship program. The Winternship, a paid, three week internship for CUNY (City University of New York) college students, opens the door to women interested in exploring tech careers and is dedicated to building a more equitable pool of talent in STEM fields.
Exiger's Winternship
This January 2019, Exiger welcomed four talented young women to our New York office – "Winterns" Taja, Anna, Lina and Angelyn (hear from them below) – to facilitate a meaningful program and deliver hands-on training with our technology and tech-enabled businesses.
Exiger's Winterns dove into a three-week immersive work experience and project challenge designed to give them exposure to every part of the business and engage with our AI-based platform DDIQ's technology and data. Our Winterns gained incredible training in and knowledge of key STEM tools, providing both technical and soft skills to succeed in the next step of their careers, like how to maximize their LinkedIn profile and the importance of networking in the workplace. They also had the opportunity to learn across all of Exiger's business units directly from our subject matter experts, who held dedicated workshops on investigations, financial crime compliance, analytics and technology with almost 100% participation from our multi-disciplinary senior management. Leading technologists, including Head of Cognitive Computing Sandra Leon, flew in from our Toronto office along with other female data scientists to help lead the project and inspire our young women to follow their career goals.
Their robust experience culminated in our Wintern's project challenge presentation to the entire business, which was live streamed across multiple offices and followed by a fireside panel on "Women in Tech Careers" featuring our Winterns and five female Exiger Tech leaders based out of our Toronto hub.
We're changing the face of technology. See what the future of tech looks like – read on: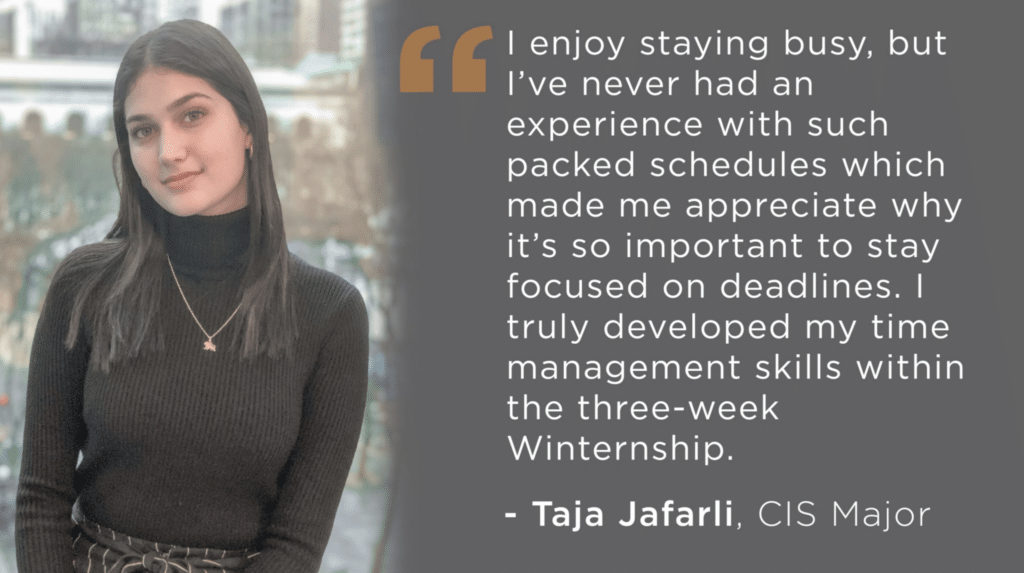 Empowering the next generation of tech leaders.
"At Exiger, we believe that when cutting-edge technology and expertise are combined, we can solve complex and costly challenges for our clients. We also believe that technology is best served by a diverse and equal team of the best and brightest minds, from all backgrounds, to drive innovation. We are thrilled to empower women in the STEM fields, in partnership with Cornell Tech, and to have welcomed our Winterns to Exiger Tech [for the second year]."
–Brandon Daniels, President, Exiger Tech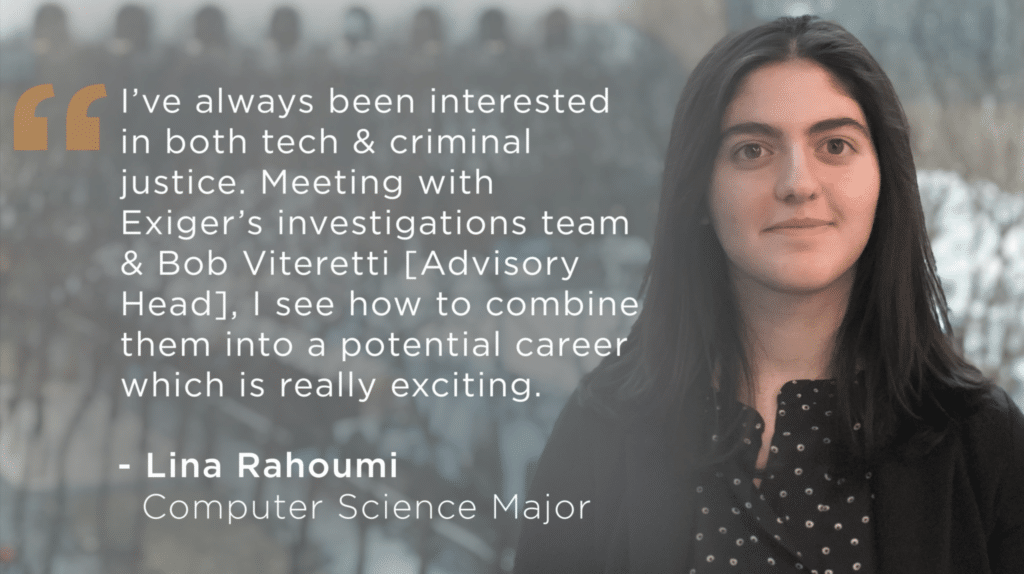 We can't win in the digital age if we leave half the team on the bench.
"The core of any business is – or will be – technology. The demand for these skills will continue to increase well beyond my lifetime. To think that half of our population is effectively shut out of the most important segment of growth has to be addressed now – for them and for the benefit of society. Exiger is a global tech-enabled services company – we rely upon our ability to hire the brightest and best tech minds to grow. We need to make a statement and set an example that having women enter tech and be accepted in tech is not only the right thing to do, but critical if companies are going to succeed in the long term."
– Michael Beber, Exiger President & CEO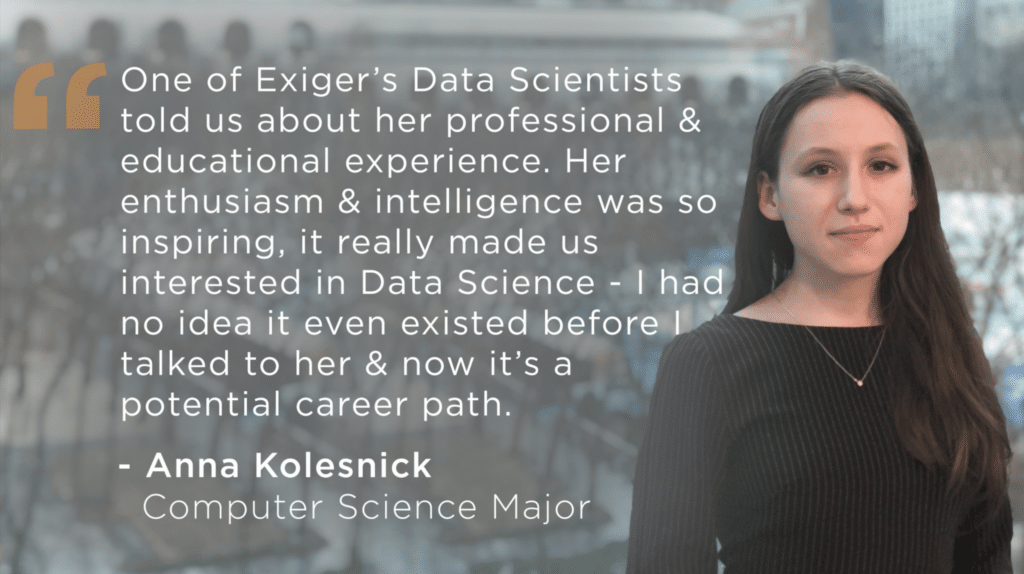 Close the gender gap in tech.
"We started Exiger WINs (Women's Initiative Networks) to raise the awareness of challenges specific to women in the workplace and develop female leadership. In partnership with Exiger's technology business, we're committed to the Winternship program's capacity to nurture female talent within the STEM fields and we champion WiTNY's mission to close the gender gap in tech."
– Laura Tulchin and Kody Gurfein, co-chairs, Exiger WINs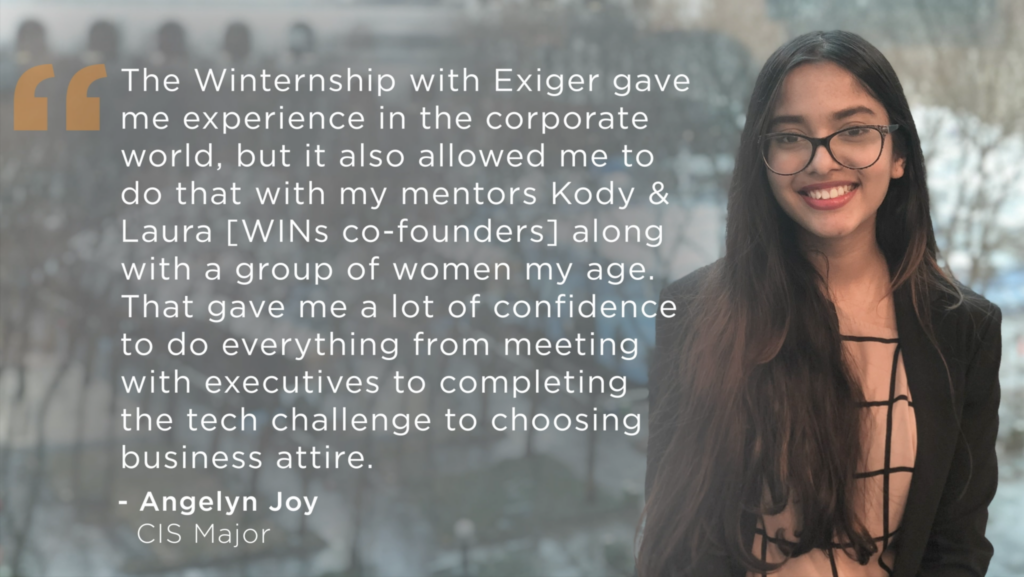 Exiger is proud to help launch these young women on career paths of opportunity and influence – please consider joining us to change the face of tech in New York City. Learn more about WiTNY here.
About Exiger WINs (Women's Initiative Networks)
Exiger WINs is committed to attracting, promoting and retaining top female talent. Exiger's biggest asset is our people, and we believe that raising awareness of the challenges facing women in the workplace while driving female leadership is critical to our success. Exiger WINs focuses on three specific areas that help us raise the bar on female professional leadership and representation – programming and events that: foster employee relationships and mentorships, close the gender gap for women in technology and encourage corporate policies that support families.