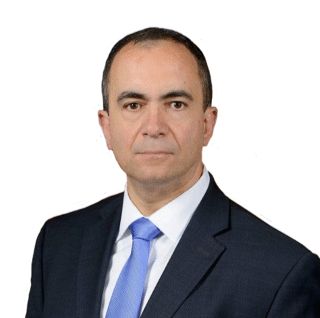 Vice President, National Security & Intelligence
Joseph 'Joe' Simon is the Vice President for National Security and Intelligence based in Exiger's McLean office. Joe brings 32 years of combined military and federal civil service with the United States Department of the Army. His service and experience in national security has covered the full spectrum of counterintelligence (CI) and counterterrorism (CT) challenges in the United States, Europe, Africa and the Middle East. Joe's broad range of expertise enables Exiger to further provide cutting edge technical solutions to government and corporate clients.
Joe joined Exiger in October 2020. Before Exiger, he served in the Pentagon, Headquarters Department of the Army (HQDA) G-2, as the United States Army's Senior Counterintelligence Executive. In this role, he was responsible for formulating policy, budget, strategy and executing operational oversight of the Army's global CI mission. During this assignment Joe proposed, planned and led the first major reformation of Army CI in over forty years. The results of this overhaul of the enterprise resulted in a more agile, efficient and aggressive organization with increased authorities and will become the single largest CI organization in the United States Government. Joe also revamped Army CI support to safeguarding the Army's most sensitive technologies and critical infrastructure assets. He developed the Army's first worldwide inspection program of sensitive CI activities significantly increasing compliance with Department of Defense (DoD) and national policy, as well as enhanced CI support to the Army's personnel screening/vetting and Insider Threat Program which now serves as the model for DoD. From 2016 to 2017, Joe served as the Chief of the CI Division in HQDA G-2 where he supervised, managed and executed daily mission and policy oversight of the Army's CI workforce. During this assignment, he managed and directed a $54M personnel screening/ vetting program that screened more than 6K personnel across the United States and overseas locations. Joe led a zero-based review of a $130M technology protection program ensuring resources were properly accounted for, resulting in 100% accountability and compliance. He also established the first ever relationship between Army CI and the Federal Law Enforcement Training Centers (FLETC) resulting in increased interagency cooperation and a better trained workforce.
From 2015 to 2016, Joe served as the Assistant Director, Army CI Coordinating Authority where he was responsible for the day to day tactical direction and oversight of the Army's most sensitive CI operations being conducted worldwide. Joe conducted a wholesale review of a sensitive Army CI program and within one-year, completed a comprehensive revalidation and recertification of the program. Joe developed a source operations mobile training team that trained new policies and procedures which certified hundreds of agents conducting Army CI's most sensitive operations.
From 2012 to 2015, Joe was assigned to the 66th Military Intelligence Brigade located in Wiesbaden, Germany where directed the Army's CI, CT and Human Intelligence Operations across Europe and Africa. He led the development of a concept of operations to conduct CI/CT screening operations of Libyan Defense Forces in a third country. Joe also established a specialized CI/CT Fly Team to rapidly respond to and mitigate threats and execute priority missions in Europe and Africa. In 2014, he led the Army CI response to Russian invasion of Crimea.
From 2009 to 2012, Joe served as Deputy Unit Chief of the FBI's National Joint Terrorism Task Force (JTTF) where he maintained visibility of the activities of DoD Task Force Officers on 106 FBI-JTTFs. Joe was the first ever Army CI representative selected to serve in an FBI Leadership position. He successfully negotiated the first FBI – DoD Memorandum of Understanding which resulted in detailing over 120 DoD special agents to the FBI's JTTF Program. Joe advised on the DoD response to the 2009 Fort Hood shooting, established the Military Operational Support Team which resulted in improved information sharing, collaboration and integration between FBI and DOD and developed first formal CT notification process between FBI and DOD.
AFFILIATIONS, AWARDS, & CIVIC ENGAGEMENTS
Member of the Association of the United States Army (AUSA)
Member of the Intelligence National Security Alliance (INSA)
PREVIOUS EXPERIENCE
Senior Counterintelligence Advisor, Deputy Chief of Staff G-2, US Army, The Pentagon
Chief, Counterintelligence Division, Deputy Chief of Staff G-2, US Army, The Pentagon
Assistant Director, Army Counterintelligence Coordinating Authority, Fort Belvoir, VA
Senior Advisor/Director Counterintelligence and Human Intelligence Operations, 66th Military Intelligence Brigade, Wiesbaden, Germany
Deputy Chief, Federal Bureau of Investigation (FBI) – National Joint Terrorism Task Force, National Counterterrorism Center, Mclean, VA
Deputy Chief, Military Intelligence Civilian Career Excepted Program, Fort Meade, MD