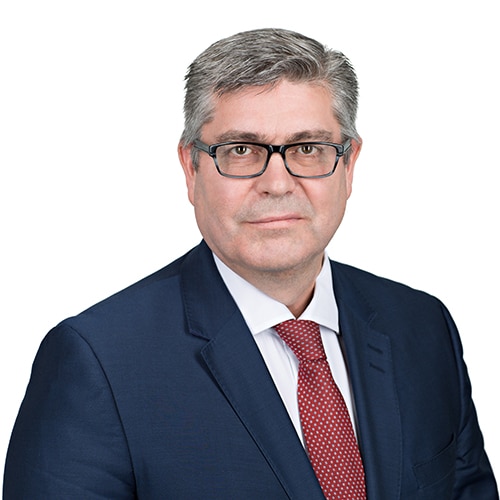 Richard Atkin is a Managing Director based in Exiger's London office. He has over three decades of extensive experience in all facets of financial crime compliance at major international banks.
Richard joined Exiger from JP Morgan, where he was an Executive Director within the EMEA Financial Crime Compliance Department. Richard headed the financial crime advisory team covering the JP Morgan Corporate and Investment Banking – Treasury Services and Trade Advisory function and was responsible for providing financial crime advice and guidance to management, undertaking and assessing due diligence of clients, corporates and correspondent banks. Additionally, he acted as a point of escalation for anti-money laundering (AML) and sanctions issues.
Prior to his time at JP Morgan, Richard worked at Barclays Bank for nearly 30 years, including as the Interim Head of Financial Crime Compliance for the Corporate and Investment Bank EMEA region. In this role, Richard was responsible for the development, implementation and oversight of financial crime risk and control strategies across corporate and investment banking businesses in the Europe and Middle East regions. Prior to his time overseeing Barclays Financial Crime and Compliance Operations, Richard was head of AML in the EMEA regions for Barclay's Corporate and Investment Banking Group. During his tenure there, Richard oversaw a revision of the firm's EMEA AML control framework, and implementation of associated initiatives to strengthen the control environment. His other roles at Barclays included Director of Group Compliance, Program Director of Operational Risk, and Head of Audit, Change. Richard is an avid reader of literature and in his spare time enjoys participating in charity cycle events.
PREVIOUS EXPERIENCE
Head of Financial Crime Compliance, Corporate and Investment Banking Group EMEA, Barclays Bank.
Head of Anti-Money Laundering, Corporate and Investment Banking Group EMEA, Barclays Bank.
Director of Group Compliance, Barclays Bank